MPs' expenses: Judge explains privilege ruling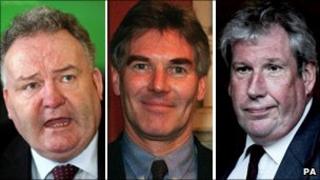 Supreme Court President Lord Phillips has said parliamentary privilege does not protect MPs from being prosecuted for "ordinary crimes".
Last month the court rejected a bid by three ex-MPs' to have their cases heard by parliament, not the courts.
He said the ancient right was meant to protect Parliamentary business from interference and claiming expenses did not "form part of of this business".
Elliot Morley, Jim Devine and David Chaytor deny theft by false accounting.
The three former Labour MPs will now face separate trials at Southwark Crown Court.
They had argued that Parliamentary privilege, which protects MPs from legal action arising from events in Parliament - should apply to expenses.
The Supreme Court rejected that argument on 10 November.
Explaining the unanimous decision by a panel of nine senior judges, Lord Phillips said the case had raised a "novel and important question of law", as for many centuries courts had recognised there were some parliamentary activities they could not inquire into which fell within the "exclusive cognisance" - or jurisdiction - of Parliament.
Lord Phillips said: "Parliamentary privilege is essentially concerned to protect from interference the business that Parliament exists to conduct, in particular the legislative and deliberative debate and discussion that takes place on the floor of the Houses or in Parliamentary committees.
"Making claims for allowances and expenses does not form part of this business. It is an incident in the administration of Parliament.
"Parliamentary privilege has never prevented the prosecution of Members of Parliament for ordinary crimes that are not connected with carrying out the business of Parliament."
Former Bury North MP Mr Chaytor, 61, of Todmorden, West Yorkshire; former Scunthorpe MP Mr Morley, 58, of Winterton, north Lincolnshire; and former Livingston MP Mr Devine, 57, of Bathgate, West Lothian, are all on unconditional bail and face separate trials. Mr Morley's had been due to start on 22 November but has been delayed.
'Law of Parliament'
In the Supreme Court hearing in October, Nigel Pleming QC, representing two of the men, told a panel of nine Supreme Court Justices that their appeal was "not, and never has been, an attempt to take them above or outside the law".
He argued important issues of principle were raised by the case and the allegations had to be "dealt with by the correct law, the law of Parliament" - arguing that only Parliament could question and impugn statements made in Parliament.
He argued that the expenses scheme was created and is administered by Parliament for Parliamentarians: "The administration of the scheme is also entirely a matter for the House of Commons - this extends not only to its creation but to its regulation and enforcement."
All three men were barred by their party from standing again as Labour MPs at the general election.
The charges against them followed a nine-month police investigation triggered after details of all MPs' expenses claims were leaked to a national newspaper.