Pickles urges councils to draw on £10bn reserve funds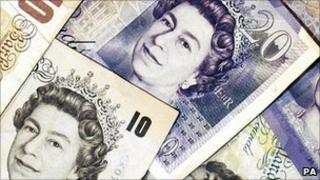 Eric Pickles has urged councils in England to make use of the £10bn in reserve funds he says are at their disposal in the current tough climate.
The communities secretary said more than 50 local authorities had in excess of £50m in their "piggy banks".
He said they should tap the funds to cover "short term financial challenges" such as internal restructuring.
But council associations they were not sitting on "vast" sums as money was set aside to fund long term projects.
Councils are facing a 7% cut in the grant they receive from central government in each of the next four years in what ministers say is a "challenging but fair" budget settlement.
In light of the additional budget pressures facing councils, Mr Pickles said it would be sensible for council treasurers to draw on reserves to address "short term costs and pressures".
'No Fort Knox'
He said 165 local authorities in England had reserve funds equivalent to more than 20% of their current expenditure.
Mr Pickles said such resources should be used to invest in areas which could yield long-term savings, such as more energy efficient street lighting, electronic invoicing of council services and co-locating different services in the same building.
Under statutory rules, councils have to earmark certain funds for specific purposes although local authorities also set aside "unallocated" funds for short term financial contingencies or to mitigate risk.
While supporting prudent financial planning, Mr Pickles said town hall vaults should not be turned "into Fort Knox".
"These untapped funds exist to ensure councils can respond to unexpected situations like the pressing need to tackle the nation's unprecedented level of debt," he said.
"Just like any household facing challenging times, all good councils should be considering the merits of temporarily dipping into the money they have set aside as part of their plans to address immediate financial challenges, with a view to building up their reserves again in sunnier days to come."
The Local Government Association, which speaks on behalf of councils in England and Wales, said authorities should be prepared to use "unallocated" funds in difficult financial circumstances.
"However, that money can only be spent once and cannot be considered a long-term solution to the unprecedented funding reductions councils are currently facing," its chair Baroness Eaton said.
The LGA has warned the budget squeeze could force councils to shed 100,000 employees, equivalent to about one in10 of their staff.
'Managing budgets'
Ministers say councils can make necessary savings without hitting front-line services, by cutting waste and sharing back office services.
Baroness Eaton suggested Mr Pickles was not telling the whole story about council funding as there were "very good reasons" for councils keeping money in reserve.
"Reserves are crucial to helping councils manage their budgets at a time of financial constraint," she said. "People would rightly expect their council to act prudently in the good times and to put money aside when they could afford to in order to help protect vital front-line services when budgets are tight.
"Councils aren't simply sitting on vast reserves of untapped money. The majority of council reserves are already earmarked for particular purposes like paying for future capital investments, paying for insurance, meeting equal pay claims and redundancy payments."