Tax on super strength beers and lagers set to increase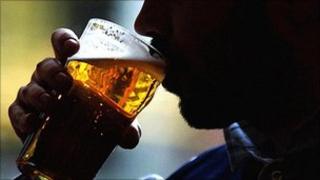 Duties on super-strength beers and lagers are to rise next year, the Treasury has announced.
Tax on beers and lager over 7.5% ABV (alcohol by volume) will increase from autumn 2011 although the exact amount will not be known until March's Budget.
The move is designed to encourage production and consumption of lower-strength beers.
But one health expert said the plans covered just 1% of all beer sales and were "window dressing".
The tax increase will not affect wine, cider or spirits.
The announcement comes on the day the government published its public health strategy, focused on cracking down on preventable illnesses such as alcohol abuse.
'No impact'
In a statement in Parliament later on Tuesday, Health Secretary Andrew Lansley is expected to say that 1.6 million people are dependent on alcohol in some form and efforts will be made to help people make healthier choices including cracking down on below cost sale of alcohol.
The tax change will mean the cost of brands such as Tennents and Kestrel Super Strength lagers and Carlsberg Special Brew, which all have a 9% ABV, rising.
However the best selling lagers, including Carling and Foster's, will not be affected.
However, duties on beer below 2.8% ABV will be reduced as part of efforts to encourage greater production and consumption of lower-strength alcohol.
The BBC's Health Correspondent Jane Dreaper said the proposals were likely to be welcomed as a first step but that health campaigners would want much broader action.
Professor Ian Gilmore, chair of the alcohol committee of the Royal College of Physicians, said he welcomed efforts to reduce the number of people who died prematurely every years from alcohol-related illnesses but the measures were "very disappointing".
He said the focus should be on beers and lagers over 5%.
"It almost amounts to window dressing," he told Radio Four's World At One programme. "It will go no way towards impacting on the amount people are drinking and the harm they are doing."