Wikileaks files: Palace supports Duke of York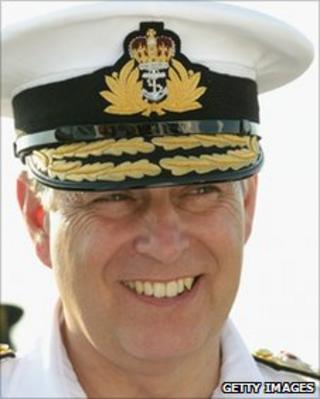 Buckingham Palace sources have supported the Duke of York after he was criticised for making comments about a government probe into an arms deal.
His comments about the Serious Fraud Office were included in a leaked US diplomatic memo published on the website Wikileaks.
The memo said he described officials as having the "idiocy of almost scuttling" a deal between BAE and Saudi Arabia.
A source said it was "clear that the duke feels passionately" for his role.
The duke is the UK's special representative for international trade and investment.
"The duke works very hard on behalf of British business," a source told the Press Association.
However, Business Secretary Vince Cable called on Andrew not to comment on government policy matters.
Mr Cable said: "That is not a matter for Prince Andrew; that's a matter for the government."
However, he praised Prince Andrew for his voluntary role as trade envoy.
The memo was written in October 2008 by the US ambassador to Kyrgyzstan, Tatiana Gfoeller, after a business lunch.
Under the sub-heading "Rude language a la British", she wrote that "[Prince Andrew] railed at British anti-corruption investigators, who had had the 'idiocy' of almost scuttling the Al-Yamama deal with Saudi Arabia".
She said the prince also criticised Guardian journalists - "who poke their noses everywhere" - for investigating the deal.
In 2006 the SFO dropped the investigation into BAE after it was decided that national security was at risk. It had been investigating a giant 1980s arms deal BAE secured from Saudi Arabia.
At the time, the Saudi royal family was deeply concerned about the idea that the investigators might try to open up their Swiss bank accounts.
Mr Cable, speaking to Sky News on Tuesday, said: "It would be helpful not to comment on policy matters of that kind, but [the duke's] contribution is a very positive one and I want to encourage him to continue to make it."
He added: "He is not a government appointee. He voluntarily goes around the world trying to help British companies promote exports and jobs in Britain.
"I value that. I've seen him in action and he does a very good job. I would just make it absolutely clear that we regard bribery overseas as illegal and unacceptable.
"We certainly don't condone overseas bribery and indeed the legislation has recently been toughened."
French comment
The duke, according to the leaked memo, used a comment from a fellow diner at a business lunch about corrupt practices in Kyrgyzstan to mock France.
The ambassador's memo read: "At this point the Duke of York laughed uproariously, saying that: 'All of this sounds exactly like France.'"
Mr Cable said: "We have all in the past cracked jokes which were misinterpreted and he is no exception."
In the leaked message, Ms Gfoeller recounts details of a brunch in the Kyrgyz capital Bishkek with British and Canadian businesspeople.
Ms Gfoeller said Prince Andrew told her that the UK, Western Europe and the US were now "back in the thick of playing the Great Game" - a reference to the 19th Century struggle between the British and Russian Empires for control of Central Asia.
"More animated than ever, he stated cockily 'and this time we aim to win'," she wrote.
Former Foreign Secretary Sir Malcolm Rifkind said the prince's comments were "unwise" but he added: "Anyone who is in public life in the modern world has to take into account that even remarks they make in a private context may end up on the public table. It was very unwise remarks to make."