Labour warning about danger of 'jobless recovery'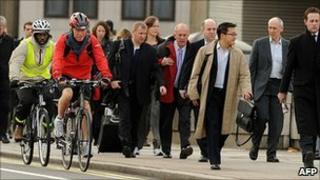 Labour has warned about the dangers of a "jobless recovery", a day after figures suggested UK growth next year may not be as strong as first thought.
Shadow Work and Pensions Secretary Douglas Alexander said ministers were "complacent" about employment returning to pre-recession levels.
Job vacancies are lower than they were at the start of 2010, he argued.
The Office for Budget Responsibility has forecast the number of people in work will rise by a million by 2015.
In its latest update on the prospects for the UK economy on Monday, the independent body said it expected 1.4 million private sector jobs to be created by 2015-6.
The OBR upgraded its 2010 growth forecast from 1.2% to 1.8% but lowered those for 2011 and 2012 to 2.1% and 2.6% respectively.
While it cut its forecast for public sector job losses over the next four years from 490,000 to 330,000, it said it expected total unemployment to rise to a peak of just over 8% in 2011 - in line with previous forecasts - before falling to just over 6% by 2015.
'Slow and painful'
Labour has maintained this year's upturn in growth has been the result of its measures to protect jobs during the recession - an argument rejected by ministers.
The opposition has said coalition spending cuts could result in a "jobs gap", given that many private sector firms are operating at peak capacity already in terms of employment.
"I think there is a real risk that the real and present danger in the jobs market goes unnoticed," Mr Alexander said in a speech to the think tank Demos.
"I am worried the government is too complacent about the risk of a slower and more painful return than many yet realise to the levels of employment and unemployment we have become used to."
Laying off public sector workers in parts of the country where they are few vacancies, and where people will need time to learn new skills, is likely to prove counter-productive, he added.
"We don't just need to avoid a jobless recovery across the country. We need to prevent one in any community.
"Otherwise, the risk is that we do not see jobs emerging in those areas and a hugely expensive and socially damaging trend of rising long-term unemployment cannot be reversed because there are so few vacancies on certain areas."
'On track'
Mr Alexander also appeared to blame Gordon Brown's post-crisis strategy on the economy for the election defeat.
He said: "There are of course a range of reasons why past supporters decided not to back us in May.
"But I would suggest that part of that loss of support reflected the fact that we got the recession response right, and yes that meant a temporarily higher deficit, but the politics wrong in leaving the impression that we were too unwilling to talk about the consequences of our decisions."
He said: "As I argued within government at the time and as I still believe today, the repeated refusal by some to use the word 'cuts' for many months after the global financial crisis and the repetition of phrases like 'Mr 10%' (a label Mr Brown used against David Cameron) gravely damaged voters' confidence that we got it."
Mr Alexander's speech came the day after the OBR suggested the recovery would be slower than those after the recessions of the 1970s, 1980s and 1990s due to abnormal lending conditions, private sector indebtedness and fiscal consolidation.
But it also said on Monday that the labour market was performing stronger than it had forecast at the time of June's Budget, with 350,000 more people in work now than in the first quarter of the year.
Chancellor George Osborne said fears of a double dip recession had been dispelled and the UK was on a path to more "sustainable growth".
"The message from the Office for Budget Responsibility is that Britain's economic recovery is on track. The economy is growing, more jobs are being created and the deficit is falling," he told MPs.
The coalition is pursuing far-reaching reform of the welfare system in an effort to boost work incentives and has pledged £1.3bn in funding for areas with historically high levels of public sector employment to help diversify their economies.