Wikileaks files: Cables 'include criticism of UK'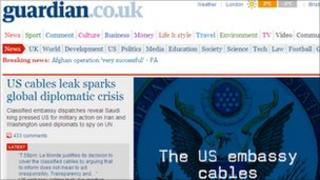 UK operations in Afghanistan are criticised in US State Department files released by the Wikileaks website, according to the Guardian.
The paper is one of several around the world carrying the latest data to be published by the whistle-blowing site.
It includes criticism of David Cameron and inappropriate remarks by the Duke of York about a law enforcement agency and foreign country, it says.
Publishing the files risks national security, the Foreign Office says.
However, former British ambassador to the United States Sir Christopher Meyer said the leaks were merely embarrassing and would not "make any difference at all" in political terms.
"What I do expect is in London and Washington that people would look very carefully about how they communicate electronically and protect the archive where it needs to be protected," he added.
The leaked US embassy cables reportedly include accounts of King Abdullah of Saudi Arabia urging the US to bomb Iran, Afghan government corruption, Iranian attempts to modify North Korean rockets as missiles and alleged links between the Russian government and organised crime.
According to the Guardian, references to the UK include:
Criticism of UK operations in Afghanistan by US commanders, Afghan president Hamid Karzai and officials in Helmand, particularly around the failure to impose security around Sangin
Requests for intelligence about individual MPs, notably from earlier this year about Conservatives in anticipation of them forming a government, and particularly Alan Duncan - now International Development Minister
How the London embassy passed on intelligence about a one-time Labour minister, whose name the Guardian has withheld, referring to him as "a bit of a hound dog where women are concerned"
Nelson Mandela's fury when an adviser stopped him meeting Margaret Thatcher two months after his release from prison in 1990
Race riots in Toxteth, Handsworth and Brixton in 1985 caused then-US ambassador Raymond Seitz to draw comparisons with Charles Dickens' London
The UK Ministry of Defence had urged newspaper editors to "bear in mind" the national security implications of publishing the information, while the US government warned the leaks would threaten global counter-terrorism operations and jeopardise relations with allies.
Downing Street has condemned the leaks, saying it was important that governments could operate on the basis of confidentiality.
A spokesman made no comment about individual details but BBC political correspondent Laura Kuenssberg said No 10 was "braced for what might come next".
'Free press'
In one leaked cable, US ambassador to Kyrgyzstan Tatiana Gfoeller accuses Prince Andrew of speaking "cockily" during an official engagement in 2008, and of leading a discussion that "verged on the rude".
She wrote that he "railed against" British anti-corruption investigators probing a Saudi arms deal, and criticised France.
Buckingham Palace has not responded to the publication.
Guardian editor Alan Rusbridger defended his newspaper's publication of leaked information, saying Wikileaks would have released all of the data without redacting it.
"It's incredibly important if you have got kings and leaders of Gulf states urging America to go and bomb Iran - so we might be on the brink of yet another war - that we should know about that.
"It's not the job of the media to worry about the embarrassment of world leaders who have been caught saying different things in public or private, especially some of these Gulf states that don't have a free press."
The Guardian says it was given the contents of more than 250,000 leaked cables on a memory stick. US officials believe a 23-year-old soldier, Bradley Manning, was the source of the leak.
Wikileaks argues its previous releases shed light on the wars in Afghanistan and Iraq. They included allegations of torture by Iraqi forces and reports that suggested 15,000 additional civilian deaths in Iraq.
BBC correspondent Jeremy Bowen said these were "the kind of documents historians normally get 25 years on" and agreed the contents of the memos would "damage America's relationship with its allies".
The Foreign Office insists its relations with Washington will not be damaged and the US ambassador in London, Louis Susman, said he was confident the relationship would remain close.
Wikileaks said it had come under attack from a computer-hacking operation hours before the publication of the extracts.