Tories urge action over 'reckless' Labour MP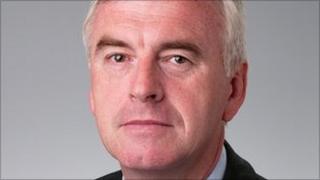 Conservative chairman Baroness Warsi has written to Labour leader Ed Miliband accusing one of his MPs of encouraging "dangerous behaviour".
John McDonnell has said students facing tuition fee rises have "no other alternative" to direct action.
Barones Warsi urged Mr Miliband to take action to deal with Mr McDonnell's "reckless" comments.
A Labour Party spokesman said the MP would be spoken to about his remarks.
Students are angry at government plans to allow institutions to almost treble fees to a maximum £9,000 per year.
'Real criminals'
Ministers plan to press ahead with a vote on the issue before Christmas.
Last Wednesday, there were 35 arrests and seven injuries to police officers as an initially peaceful anti-fees rise protest in Whitehall flared into violence.
At a conference on Saturday, Mr McDonnell, the left-wing MP for Hayes and Harlington, said: "The real criminals are the ones attacking our education system."
He added that, when governments refused to react to concerns, there was "no other alternative than take to the streets and direct action to bring them down".
In her letter to Mr Miliband, Baroness Warsi wrote: "A member of your party, John McDonnell MP, has been quoted in the press suggesting that he is involved in a 'programme of resistance' which includes the potential incitement of rioting.
"These comments were completely irresponsible from an individual in public office.
"You will share with me a concern over these reckless claims and I would ask you to take action against John McDonnell to prevent the incitement of any kind of dangerous behaviour.
"As a matter of public safety, I urge you to deal with this matter with some urgency. "
The Labour Party spokesman said the party condemned violent and unlawful activity but students had the right to demonstrate peacefully.
He added: "However these protests must at all times remain within the law.
"The reported remarks of John McDonnell MP have been brought to the attention of the Labour Party and he will be spoken to by the opposition whips office."
Students at several universities are continuing sit-in protests over plans to raise the cap on tuition fees and cut higher education funding.
Twelve occupations reportedly ongoing on Sunday included those at Plymouth, Leeds, Cambridge, Newcastle, Edinburgh and University College London.