Long test ahead for Miliband policy review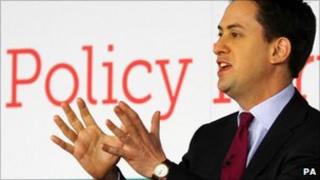 Labour leader Ed Miliband has launched a major review of policy, urging his party to reconnect with public aspirations - it is a tough process for any politician.
Ten weeks into the new job, Mr Miliband finds himself in a strange position.
His party is ahead in some of the opinion polls and he claims they have tens of thousands of new members.
He told supporters in Kent "the fight back has begun" and has ordered a complete rethink.
Over the next two years, every Labour policy will be reviewed. Members of the Shadow Cabinet have been given a specific area to look at.
The plan is to form the foundations for the party manifesto for the next general election.
'Squeezed middle'
The first step in that process is to review much of what was promised in the last manifesto, which was written by none other than Ed Miliband.
It is very similar to what David Cameron did in his first few years as Conservative leader.
His aim was to decontaminate the Tory brand, to rid the party of the "hated" tag given to it by one of its own.
On the face of it, the task does not appear as daunting for Labour's new leader. But there is talk of matching, or even exceeding, the rebirth which Tony Blair brought to Labour in the mid 1990s.
One of the problems this new leader has is that two years is a long time. Tackling the deficit will dominate the landscape between now and 2012.
Mr Miliband must make sure his party does not appear ambiguous or send out a confusing message on how it plans to deal with it.
The beginning of a review process is tough for any politician. It goes like this; they pose questions, they identify past mistakes - in Mr Miliband's case his Gillingham speech mentioned quite a few of them - and they try to set the mood for the challenges ahead.
There is not much in the way of specifics but the direction of travel is important.
Labour's leader tried to spell out the four areas where he believes his party must change if it is to stand a chance of winning the next election. He talked again about helping the "squeezed middle".
It is a description he has used repeatedly, but it is already proving problematic because he has struggled to define who they are.
Two years of reviewing and re-assessing can only get going once that is sorted.