Clegg refuses to say if he will abstain on tuition fees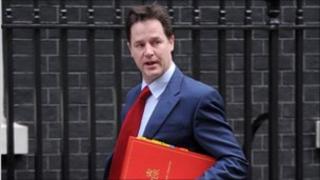 Deputy PM Nick Clegg has declined to rule out Lib Dem ministers abstaining in the crucial Commons vote on university tuition fees.
Mr Clegg told BBC News the Lib Dems were "looking at this as a party".
Downing Street said Lib Dem ministers were entitled to abstain under the terms of the coalition agreement.
It comes as Labour leader Ed Miliband turned down an invitation to take part in student protests after saying he had been "tempted" to take to the streets.
Lib Dem MPs are under fierce pressure after signing a pre-election pledge not to raise fees from their current £3,290 level and calling for them to be scrapped in the long term.
Becoming 'comfortable'
Mr Clegg has said earlier this week that he "massively regrets" being in a position where he cannot deliver on his election promise.
Up to a dozen of the party's MPs, including former leaders Sir Menzies Campbell and Charles Kennedy, are expected to oppose the legislation, although this will not be enough to defeat it.
Newspaper reports suggested that Mr Clegg and Business Secretary Vince Cable may be preparing to abstain in the vote - due before Christmas - in order to hold the parliamentary party together.
Asked about the possibility during a visit in Sheffield, Mr Clegg told the BBC: "We are looking at this as a party.
"In the coalition agreement we were very, very clear that for Liberal Democrat MPs, if they didn't like the details of the policy, they were able to abstain."
But he said that more Lib Dems were becoming "comfortable" with the policy as they studied the details.
He has said the coalition's proposals are fairer than the current system as the level at which graduates will start to repay money will rise to £21,000, there will be additional support for the poorest students and upfront fees for part-time students will be axed.
"There's a very concerted attempt to make it easier for lots of people who presently don't go to university - bright youngsters from disadvantaged backgrounds - to go to university," said Mr Clegg.
"The more people see that the detail is fairer than what we have at the moment, I think more and more people are feeling comfortable - notwithstanding all the demonstrations and controversy - with what's being proposed."
Violent protests
A Downing Street spokesman said collective responsibility would not be an issue if Lib Dem ministers decided to abstain in the vote.
He said: "There are specific provisions in the coalition agreement which allow Liberal Democrat MPs to abstain on this issue."
The Met Police said on Wednesday there had been 35 arrests and 17 people injured - including at least two police officers - as initially peaceful marches in Whitehall again flared into violence, with much of the anger directed at the Lib Dems.
Lib Dem deputy leader Simon Hughes' London office was targeted on Thursday for a sit-in.
In an interview with BBC Radio 4's Today programme on Friday, Labour leader Ed Miliband said he was "obviously" not in favour of violent protests but he understood the depth of anger that people felt about rising tuition fees and cuts in university budgets.
Asked if he would join future protests, he said: "We'll see what happens".
But he rejected an invitation from a group co-ordinating protests to attend the march planned for next Tuesday in London.
A spokeswoman for Ed Miliband said: "Ed will not be going on any demonstration."