Miliband comes to defence of 'squeezed middle'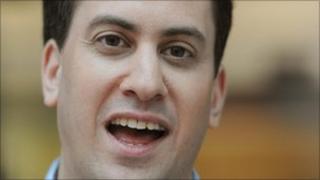 Labour leader Ed Miliband has spoken of the need for Labour to target the "squeezed middle" - but the Conservatives say he is confused.
Mr Miliband was speaking ahead of the launch of a policy review on Saturday.
He stressed the need for Labour to target the people in the "squeezed middle" who are feeling the pinch due to spending cuts.
But the Tories claim he used six different definitions of the phrase in an interview on BBC Radio 4's Today.
These ranged from "people who are working hard" to "those not on six-figure salaries, who are in the middle of the income distribution".
Pressed on whether he meant the median income of £26,000, the Labour leader said: "Well, I'm a bit confused now, I'm saying it's above £26,000 and below and you're talking about the poor. I'm talking about the people either side.
"I'm saying it's either side of the average income."
On the broadest definition used by Mr Miliband, which only excludes people on benefits and six-figure salaries, more than 42 million people, or 88% of the UK adult population, would be included in the "squeezed middle", according to BBC Research.
BBC political editor Nick Robinson said the phrase was "deliberately vague", adding: "Pretty much everyone - bar, perhaps, the very poor and the very rich - are meant to think Ed's talking about them".
'Triple crunch'
But Conservative Party Chairman Baroness Warsi accused him of "dithering" over this and other issues, such as tax and whether he would take part in student protests, in the interview.
She said it was no wonder that Labour's policies are a "blank sheet of paper".
"The only thing he knows for sure is that he is a socialist and will stick up for the trade unions."
Labour has been contacted for a response.
A report by the Resolution Foundation think-tank on Thursday said many lower and middle income families faced a "personal recession" next year that would leave them worse off by an average of £720.
The report, Squeezed Britain, says government cuts, rising inflation and stagnating pay will hit 11 million UK households who earn between £12,000 and £30,000 but who do not rely heavily on means-tested benefits.
Wages will fall by almost 4% in real terms over the next year, researchers found, as "major cuts overlap with a fragile jobs market".
Resolution Foundation chief executive Gavin Kelly said millions "who already sit on the edge of downturn face a triple crunch".