Tory peer Flight apologises for benefits remark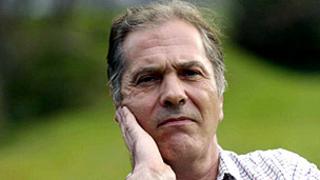 New Conservative peer Howard Flight has issued an "unreserved" apology for saying child benefit changes would encourage the poor to "breed".
In a statement issued by the party, Mr Flight said he would like to withdraw the remark, made to a newspaper.
His comments came after David Cameron urged him to apologise but rejected calls to block his peerage.
Labour branded Mr Flight's comments "shameful" and said they showed the Tories were out of touch with people.
Mr Flight, a former Conservative deputy chairman, was named last week by Mr Cameron as one of more than 20 new Tory peers.
The former MP for Arundel and South Downs, who is yet to take his seat in the House of Lords, was commenting on the government's plans to cut child benefit for top-rate taxpayers.
He told the London Evening Standard: "We're going to have a system where the middle classes are discouraged from breeding because it's jolly expensive.
"But for those on benefits, there is every incentive. Well, that's not very sensible."
'Insensitive throwback'
Asked at a Downing Street press conference if he would block Mr Flight from taking up his peerage, Mr Cameron said: "I don't agree with what he said and I am sure he will want to apologise for what he said. And I'm sure we can leave it at that."
A spokeswoman for the prime minister stressed that Mr Flight was not a member of the government.
But Labour seized on his comments, which came a week after Tory former cabinet minister Lord Young resigned as an unpaid business adviser to the prime minister after saying most Britons "had never had it so good" during the "so-called recession".
Shadow work and pensions secretary Douglas Alexander said: "These shameful but revealing comments cast serious doubt over David Cameron's judgement in personally appointing Howard Flight to the House of Lords only a few days ago.
"Last week one of the prime minister's senior advisers told us we'd never had it so good and now his latest hand-picked peer comes out with these comments."
Mr Flight's comments also angered trade unions, with TUC general secretary Brendan Barber branding the ex-MP "an insensitive throwback to the worst of 1980s politics".
'Idiot remark'
Plaid Cymru MP Hywel Williams branded the comments "disgraceful" and said they "showed the Tories' true colours".
Giving his reaction to Mr Flight's apology, Communities Secretary Eric Pickles told the BBC News Channel: "They were remarks that I found personally repugnant and I am glad that he has apologised."
Justice Secretary Ken Clarke told BBC One's Question Time that he disagreed with Mr Flight's comments, which he said amounted to an "idiot remark".
But he accused fellow panellist, shadow culture minister Gloria De Piero, of "synthetic indignation", and dismissed the idea that Mr Flight had no expertise to bring to the House of Lords.
Mr Flight was removed as a Conservative candidate in the 2005 general election by then leader Michael Howard, after he was recorded saying the party would make deeper than publicly admitted cuts if it was returned to power. He is a former deputy Conservative chairman.
He told the Evening Standard that Mr Cameron had privately hinted his nomination for a peerage was a tacit admission that Mr Howard was wrong to have axed him.
Mr Flight also said he suspected Chancellor George Osborne's decision to remove child benefit from couples who live together if one of them earns more than £43,000 had been influenced by the Liberal Democrats.
And he attacked the coalition's plans to increase university tuition fees, saying: "Two of my nieces and nephews, both of them very bright, gave up university half way through because they didn't want the financial burden."
Your comments
Well I agree with him. You shouldn't have children you (not the state) cannot afford. Jo, Cheshire, UK
Typical upper class hogwash from someone with his head in the sand. The working class will dig the country from the mess we're in not peers or the government. Instead of comments like this the workforce need support and encouragement! Andy, Hammerwich, UK
I don't think he should apologise - I agree. The benefit system does encourage poorer people to "breed" and to use this as their source of income. This is completely wrong if people with a bit more money don't get any help at all - raising a child is indeed expensive and tricky for anyone in this day and age. Rebecca, Birmingham
David Cameron was wrong. Howard Flight is right as the cost of raising children properly is a serious disincentive for middle class families. For those dependent on state benefits the more children they have the more money they receive. Families are allocated larger council houses if they have more children whereas a middle class family with more children will not be able to afford a bigger house. Adrian Marshall, Uckfield, East Sussex
This is just another example of the Conservatives, or contributor to the Conservative party clearly out of touch with the nation. How many "gaffes" are we going to have to hear about until it is blindingly obvious that this is what the majority of the hierarchy of the Tories think about the British population? Nicholas Allen, London
Whatever happened to freedom of speech? JV Heath, Bradford on Avon, UK
I find it hard to believe that anyone, no matter how poor, would have a child so that they can claim an extra £11 a week in child benefit. A week's worth of nappies costs more than that. Liz, Hereford, England
He should never have apologised. It's reflective of the sorry state of British politics when a peer (albeit soon-to-be) cannot speak his mind. This is regardless of whether he's right or wrong (and he is right in my view). We need more people like Mr Flight, not fewer. James Power, Sheffield, England