Commons set for tuition fees vote before end of year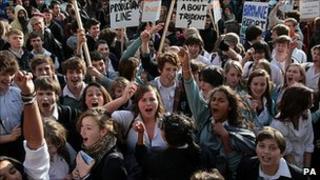 A Commons vote on controversial plans to raise student tuition fees will be held before the end of the year.
Ministers indicated a vote on plans to nearly double fees in England, a source of tension within the coalition, would take place within weeks.
The proposals have led to mass protests in London and other university cities.
A Labour MP has been criticised after saying Wednesday's protest, which led to sporadic violence and damage in central London, was "marvellous".
Lib Dem MPs are under fierce pressure after signing a pre-election pledge not to raise fees from their current £3,290 level and calling for them to be scrapped in the long term.
Lib Dem dilemma
The coalition agreement gives Lib Dem MPs scope to abstain in votes on the issue but many prominent MPs - including Sir Menzies Campbell - have indicated they will vote against it.
Deputy Prime Minister Nick Clegg has said he regrets his U-turn on fees but argues he is not able to implement several Lib Dem policies because the party is in coalition with the Conservatives.
He says the proposals are fairer than the current system as the level at which graduates will start to repay money will rise to £21,000, there will be additional support for the poorest students and upfront fees for part-time students will be axed.
Asked whether Lib Dem ministers would be expected not to vote against the policy, a No 10 spokesman said "we would expect them to abide by the coalition agreement".
"Usually the principle of collective responsibility applies but we have a coalition government and there are provisions on specific issues," he added.
The BBC's Political Correspondent Iain Watson said there was no suggestion from Downing Street that Lib Dem ministers would be expected to actually vote for the proposals.
'Desperate'
The Lib Dem parliamentary party was discussing a possible deal in which its government ministers would agree to abstain on the fee vote - in return for backbenchers being persuaded to abstain rather than vote against, he added.
Commons leader Sir George Young told MPs on Thursday that the vote would happen before Parliament's Christmas recess begins on 21 December but did not say precisely when.
Most Conservatives are in favour of lifting the current cap on fees - recommended by the Browne review last month - while Labour leader Ed Miliband supports a rival graduate tax proposal, the precise details of which have yet to be decided.
Shadow Commons leader Hilary Benn, for Labour, said an early vote on the fees increase demonstrated that the government was "desperate to try and get this out of the way".
He said this would enable voters to "see every single Liberal Democrat who goes through the 'aye' lobby and breaks the pledge that they made".
Student leaders have said protests against the proposals and cuts in university funding, which turned violent in London on Wednesday and led to 35 arrests, will continue and have urged ministers to "sit up and take notice" of public anger.
'Marvellous demonstration'
Labour MP David Winnick told MPs he supported Wednesday's protests in Westminster and cities such as Bristol, Sheffield and Oxford.
"As far as yesterday's demonstration is concerned, it is marvellous and gives a lead to others to follow," Mr Winnick said to jeers from Conservative MPs.
Sir George urged Mr Winnick to reflect on the comments, saying the protests had resulted in thousands of pounds of damage and had been hijacked by a minority of "irresponsible".
His comments follow those of trade union leader Len McCluskey who called on Wednesday for disaffected students and public sector workers to join together to fight government cuts.
"There is an incredible sense of anger that is beginning to build up and that anger can explode and manifest itself in all kinds of different ways at any time," the Unite general secretary said.