Michael Farmer and Stuart Wheeler on donors & influence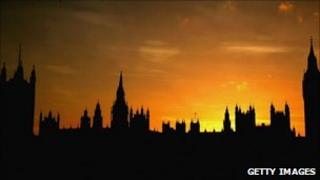 A Tory donor has told an inquiry that donors have little influence and the coalition has done "nothing so far" on the issue that concerns him the most.
Hedge fund founder Michael Farmer told an inquiry into party funding he backed the Tories because of their views on the family and "Christian life".
He had met David Cameron but said the Tory leader "makes up his own mind".
Former Tory and UKIP donor Stuart Wheeler said it was "natural" donors would want to make their views known.
Mr Farmer, who donated £325,000 to the Conservatives between January and March 2010, and £262,800 between April and June, was among witnesses addressing the Committee on Standards in Public Life's inquiry into party funding on Tuesday.
The issue has proved controversial following stories including the cash-for-honours saga, property developer David Abrahams' donations to Labour under other people's names and Conservative donor Lord Ashcroft's tax status.
But previous attempts to reform party funding have stalled because cross-party agreement could not be reached.
'Better job'
Asked about his motivation for donating money, Mr Farmer told the hearing he was a Christian and had supported the Conservatives because of specific policy areas - particularly on the family and on "Christian life". He felt, under Labour, the country "wasn't being governed very well".
"I felt the Conservatives would do a better job of it, frankly," he said.
"I'm a great believer in the family unit being a basic unit on which the rest of society can build itself."
Mr Farmer had met and spoken to Conservative leader David Cameron but added: "I personally don't think anything I have said has really influenced things too much. From the point of view of family policy I think this coalition has really done nothing so far."
But he said he would "never have expected" to be rewarded for donations with favourable policies and said Mr Cameron could "hear my voice as loud as anybody else's".
Mr Farmer said he believed large individual donors had more "limited" influence than trade unions. He also told the committee there were an "awful lot of donors who have turned out to be disreputable" and political parties should do "due diligence" and check up on donors' backgrounds.
Rename Lords
He suggested renaming the House of Lords so it was just called the Upper House might help - as the title of lord was sometimes "what draws people". He suggested that might result in a significant drop in donations to political parties.
Asked whether donations were given by people seeking personal advantage, Mr Farmer said it was "fairly complex" - people who had never thought about being made a peer might find it appeals if the idea was suggested. But he added that one of the big motives could be "the public good".
The spread betting tycoon Stuart Wheeler - who gave £5m to the Tories in 2001 but last year donated £100,000 to UKIP, told the committee that he had donated a large sum to the Tories because he had been impressed with then-leader William Hague, and because he had been told the Conservatives were "skint" at the time - while Labour was getting a succession of big donations.
"As I had just, at that moment, become very rich - which I no longer am - I was well able to help and thought it would be a good thing to do," he said. He had later backed UKIP because he was "highly Eurosceptic" and the Tories were "failing" to tackle issues of concern to him about the EU.
He drew a distinction between "undue influence" - such as donors getting peerages or some sort of business advantage - and "unobjectionable" influence, like donors being able to "put their views on what's best for the country and how it should be run".
"It's absolutely natural and I don't think it's wrong, if somebody minds enough about policy to be willing to give an awful lot of money he or she is probably worth listening to."
He added: "A rich person is going to have his or her views heard, a good party may listen with some respect but they shouldn't change their policy if they don't agree with it. There are going to listen to the press, for example. Does the press have undue influence? It has an enormous amount of influence but I think it is perfectly right that it should."
He also recognised that some people gave money in the hope of becoming peers and suggested it should be more difficult for donors to get a peerage.
Gareth Thomas, the Labour MP for Harrow West and a former international development minister, told the committee he had been "worried" by the influx of Conservative money into his constituency during the general election campaign.
Mr Thomas said, with fixed term parliaments planned, there was no reason not to push for limits on annual expenditure at a national level - rather than simply in the run-up to an election. He also urged the committee to look at spending by national parties in marginal seats, rather than just the local candidate's spending levels.
The inquiry will publish its recommendations on party funding in spring next year.