Councils lobby government to raise parking fines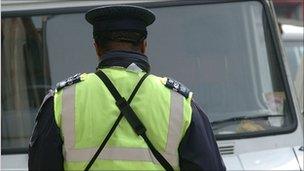 Some councils in England and Wales have been lobbying the government for the right to increase the amount they can charge motorists in parking fines, the BBC has learned.
The local authorities want to bring their fines in line with London, which has a higher upper limit of £120.
Penalties outside the capital currently have an upper limit of £70.
The British Parking Association is also calling for an increase, saying current levels are not enough of a deterrent.
While car parking charges are controlled by individual councils, outside London the amount they can charge in penalties for drivers who break the rules is set by government.
In towns outside London parking charges have risen but fines have been static for nearly a decade.
The British Parking Association argues that the differential between the cost of parking all day and the penalty charge for not paying it must increase in order for there to be a deterrent.
In Cambridge, for example, it can cost £23 a day to park - about the same as in London - but the standard fine for non-payment is £50, which is halved if it is settled quickly.
The government has not said which councils have been in touch to lobby them over fine levels.
It said while it was prepared to listen it also understood the concerns of drivers, who may fear they are an easy target for councils facing cuts and looking for extra income.
Transport Minister Norman Baker told the BBC: "I think motorists will worry that this is perhaps a covert attempt to raise money from them unfairly. That's not the Department for Transport's objective in any shape or form.
"What we are doing is looking very objectively and very fairly at the evidence presented to us by the councils on the one hand and the British Parking Association on the other hand, ,
BBC correspondent Ben Ando said since local councils took over parking controls from the police the number of parking fines has soared, in some cases rising by seven times the previous level.
Related Internet Links
The BBC is not responsible for the content of external sites.