Michael Grade among 54 people to receive peerages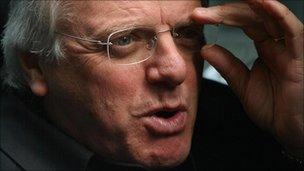 Former BBC and ITV chairman Michael Grade and Oscar-winning writer Julian Fellowes will be among more than 50 new members of the House of Lords.
The two - who will become Tory peers - will be joined by other public figures, including broadcaster Joan Bakewell, who will sit on the Labour benches.
The list also includes several major party donors.
These include Tories Bob Edmiston, Sir Michael Bishop and Stanley Fink, and Labour backer Sir Gulam Noon.
Julian Fellowes, who won an Oscar for Gosford Park and is the man behind recent ITV hit Downton Abbey, is a long-standing Conservative supporter who helped write speeches for former leader Iain Duncan Smith.
Fellow writer Michael Dobbs, whose works include House of Cards and who worked behind the scenes for the party during the Thatcher and Major years, will also sit on the Tory benches.
Former Conservative MPs heading to the Lords include Howard Flight, the former deputy party chairman forced to resign after being taped before the 2005 general election suggesting the Tories had secret spending cut plans.
The others are Richard Spring, former chief whip David Maclean and Sir Michael Lord, who became deputy speaker of the Commons.
New Lib Dem peers include former MP Susan Kramer and former Deputy First Minister of Scotland Nicol Stephen.
Critics have said the coalition is trying to bolster its position in the Upper House to limit future rebellions over controversial legislation.
Labour leader Ed Miliband has written to Prime Minister David Cameron expressing concern about the number of its own nominations to have been put forward compared with those by the Conservatives and the Liberal Democrats.
The SNP, meanwhile, has warned that elevating major party donors risks undermining confidence in the Lords and raising fresh questions about the link between party donations and peerages.
"David Cameron should be mindful of the mess Tony Blair found himself in over the appointment of party donors to the Lords," said Angus MacNeil, the MP who triggered the "cash for honours" inquiry" in 2006.
"There should be no link between donations and peerages."
Those becoming Conservative peers include Bob Edmiston, a multi-millionaire car salesman, who gave £2m to the party before the 2005 election.
Mr Edmiston was nominated for a peerage in 2005 but was blocked by the Lords appointment commission. He was subsequently questioned by police, under caution, during their investigation into the "cash for honours" allegations.
Curry tycoon Sir Gulam Noon was also interviewed during the police inquiry into whether peerages were offered in return for donations and loans. No charges were brought as a result of the lengthy investigation, leading to criticism of the police inquiry and its cost.
He gave £737,826 to the Labour Party between May 2001 and April 2010, as well as donating £17,000 to David Miliband's unsuccessful leadership campaign.
Other Tory supporters in line for peerages include Sir Michael Bishop, former boss of the airline BMI, City financier Stanley Fink, who has given £2,064,066 to the party since 2003, and Andrew Feldman, a close associate of Mr Cameron's and a former chief fund-raiser and chief executive of the party who has donated £55,270.
According to BBC research, donors being given Conservative peerages have given a total of £4,678,636 to the party between them.
New Labour peers will include Dame Joan Bakewell, the broadcaster and spokeswoman for older people under the last government.
Former Labour MP Oona King, who failed in her attempt to become Labour's candidate for London mayor earlier this year, and the party's former general secretary Ray Collins, who is standing down from the post, will also be ennobled.
Labour is currently the largest single party in the Lords with 234 peers, compared with the Conservatives and the Liberal Democrats which have 193 and 79 peers respectively. There are currently 181 independent crossbenchers.
With 54 new appointments, it will take the total membership of the House of Lords to nearly 750 - the highest number since the bulk of hereditary peers were abolished in 1999.
The coalition has said it will publish outline plans for future reform of the House of Lords before the end of the year, with many Lib Dems - and Labour MPs - calling for a fully elected chamber.
Peter Facey, of campaign group Unlock Democracy, said: "If politicians and prime ministers want to reward their friends, instead of sending them to the House of Lords, what's wrong with a gold watch?
"People who make and amend our laws should be elected by the public, not selected for good deeds done in the past by grateful politicians.
"House of Lords reform is long overdue, yet despite much talk from this government we have yet to see concrete proposals."