Duncan Smith 'clarifies' Commons slip over benefit data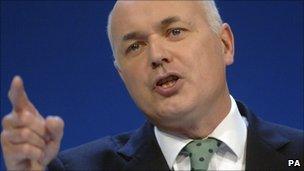 Iain Duncan Smith has "clarified" comments made in the Commons, when he mistakenly said a property website's figures were official statistics.
The cabinet minister had said that Office for National Statistics' data showed private rents fell by 5% last year, but housing benefit rates rose.
Now his officials have admitted they did not come from the ONS - but from FindaProperty.Com
Sources say he meant to say "national statistics" during last week's debate.
The error had been pointed out by property industry commentators.
In a Commons debate on planned reforms on 9 November, Work and Pensions Secretary Iain Duncan Smith referred to the local housing allowance (LHA) - which determines how much housing benefit is payable.
He told MPs: "We now know that, according to the Office for National Statistics, the private marketplace in housing fell by around 5% last year. At the same time, LHA rates, which the previous government had set and left to us, had risen by 3%. There is thus a 7% gap with what is going on in the marketplace."
It was designed to illustrate his argument that housing benefit costs had been getting out of control by implying that rates had been rising even when rents paid by those not on benefits had been falling.
On Thursday Department for Work and Pensions officials conceded the figures came from FindaProperty.com and Mr Duncan Smith has written to the parliamentary authorities to "clarify" his remarks.
Ian Fletcher from the British Property Federation, which represents investors, developers and landlords, said: "In an age of austerity, why are taxpayers paying for government statisticians if the department would rather look up any old statistic off the web?"
But sources close to Mr Duncan Smith say he made a minor error in the Commons debate, he should have said "national statistics" not "Office for National Statistics".
They say the website's figures are "robust" and its statistics have been used in submissions to parliamentary committees without complaint and argue that statistics from local authorities show a similar trend.
While rents overall were falling in recent years, some landlords were charging top rates to tenants on housing benefit and pushing those rates up, they say.
A DWP spokesman said that the row over the origin of the statistics was "a distraction from the important point the secretary of state was making".
"It is neither right nor fair that the government is paying inflated prices through the benefits system. We have not sought to hide the source of this data."
BBC political correspondent Iain Watson said it illustrated the sensitivities around Housing Benefit reform. He said landlords were outraged at welfare minister Lord Freud's comments two weeks ago that "some unscrupulous landlords are charging benefit claimants over the odds to make a quick buck at the expense of the taxpayer".
The government plans to cap housing benefit payments next year but private landlords argue costs have ballooned, not through profiteering, but largely because of the recession.
The government's own statistics suggest the recession added 700,000 households to the housing benefit roll. The British Property Federation say that the FindaProperty website now suggests rental prices in the private sector are rising once again.
Douglas Alexander MP, Labour's Shadow Work and Pensions Secretary, today wrote to Iain Duncan Smith, urging him to come clean on his use of statistics after reports that figures he claimed in the House were supported by the ONS were actually from findaproperty.com.
He said: "Iain Duncan Smith should be more careful about his use of statistics.
"We want to have a grown up debate with the government about their policies but that requires confidence in the statistics used by the DWP.
"He should now come clean and identify once and for all the true source of these statistics."
Related Internet Links
The BBC is not responsible for the content of external sites.