Nick Clegg: Councils to get powers to cross-match data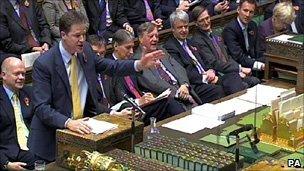 Councils are to get powers to cross-match their databases as part of a pilot scheme intended to increase the number of people registered to vote.
Nick Clegg said there was "no excuse for inaction" with estimates of 3.5m voters not on the electoral roll.
Data-matching will allow councils to identify the people who are missing so council officers "will be able to help these people onto the register".
He also suggested the Lib Dems had just one chance to change the voting system.
In a speech to the Political Studies Association and the Hansard Society, Mr Clegg referred to the referendum planned for 5 May 2011, on whether the First-Past-The-Post system should be replaced by the Alternative Vote for general elections.
He said: "You can't constantly ask people. Referendums have a fairly definitive feel about them - not forever - but I wouldn't be expecting another one."
The pilot data-matching schemes are due to start next year. In his speech, Mr Clegg said the plan would be rolled out across the country if they prove a success.
"It's true that around 90% of people are registered, and the registration rate does seem to have stabilised after a decline in the last decade, but it is not good enough to simply ignore the millions who aren't," he said.
"Especially when you look more closely at where the problem is worst: among the young; among black and ethnic minority communities; in areas with high social deprivation.
"The coalition government is clear: these missing millions must be given back their voice."
Mr Clegg said that he planned to bring in a third political and constitutional reform bill, next year, designed "to sort out our electoral register".
He also welcomed a suggestion from Jonathan Tonge, Professor of Politics at the University of Liverpool, to involve schools and colleges more closely in getting young people on the electoral roll.
But he added: "The idea of compulsion is not what we are suggesting."
There would be more frequent reviews of electoral boundaries and measures to tackle electoral fraud by speeding up the introduction of individual - as opposed to household - registration to vote.
People would have to register themselves, and provide a signature, national insurance number and date of birth.
"People must have confidence in the system and know that it is secure against fraud," he said.
"A more complete register and more up-to-date boundaries are both central to democratic reform - we have to shape the system around our changing demographics; it's all part of moulding our politics to suit people's lives."
In a question and answer session at the end of the speech, Mr Clegg was challenged about his party's U-turn on raising university tuition fees in England, by a young university graduate.
He told her: "We didn't win the election. You could deliver on a pledge if you had some authority to deliver on it. I did not have a mandate to drive through a policy, which as it happens was diametrically opposed by both Labour and the Conservatives."
He argued that what was being proposed - which would see tuition fees rise from an annual £3,290 to up to £9,000 a year, to be paid back after graduation, once graduates are earning more than £21,000 a year - was "a lot fairer than what exists at the moment".
"For the first time, all students, full time and part time, will not pay any upfront fees at all," he said.
Data protection campaigners have raised concerns about data-matching without the permission of the people whose information it is.
NO2ID national coordinator Phil Booth said: "On the one hand the government have said they want to roll back the database state, but now they seem to be saying we are going to use this data just because we have it.
"It breaks the first principle of data protection, which is that you don't use data gathered for one purpose for another purpose."
Related Internet Links
The BBC is not responsible for the content of external sites.