David Cameron reverses photographer decision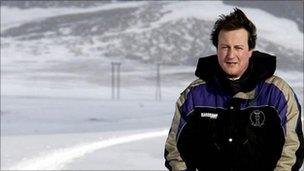 David Cameron has reversed his decision to employ a personal photographer and film-maker at taxpayers' expense.
The prime minister admitted taking on Andy Parsons and Nicky Woodhouse had sent a "wrong message" during a time of public sector job cuts.
Downing Street denied that news of their removal had been put out on the same day as the Royal Wedding announcement in an effort to "bury" it.
The pair will return to their former jobs with the Conservative Party.
They will now have what is described as a "restricted" political role and neither will be replaced in government.
Ms Woodhouse formerly ran the Webcameron site, on which Mr Cameron, then leader of the opposition, gave his thoughts on the week's events.
Mr Parsons came to prominence during a trip to Norway in 2006, when Mr Cameron was photographed on a husky-drawn sled, as part of moves to highlight the Conservative Party's changing attitude to environmental issues.
Both were hired on 1 November on short-term or fixed-term contracts, which allow the government to take on staff without publicly advertising positions.
Mr Cameron's spokesman said Mr Parsons and Ms Woodhouse had been employed on this basis as it was thought to be a way of saving money.
He added: "However, the prime minister has decided that it sent the wrong signal to the public at a difficult time. Therefore it has been agreed with them that they will be returning to Conservative Party HQ."
The spokesman denied there had been an attempt to coordinate the news of the departure of Mr Parsons and Ms Woodhouse with the announcement of the engagement of Prince William and Kate Middleton.
He said Downing Street officials had been discussing the future of Mr Parsons and Ms Woodhouse early on Tuesday morning and that the prime minister had not heard of the royal plans until 1030 GMT.
Asked whether suggestions of news management amounted to a conspiracy, the spokesman replied: "Yeah, one of those."
Labour MP Michael Dugher said: "I welcome the prime minister bowing down to public pressure. The prime minister should have known from the start that it's wrong to bill the taxpayer for his vanity photographer.
"But today's flip-flop raises more questions. If it's wrong to charge taxpayers for Andrew Parsons or Nicky Woodhouse then why are so many other Conservative Party workers being hired via this sharp practice as so-called civil servants?"
UK Independence leader Nigel Farage told BBC Two's Daily Politics: "[Mr Cameron] has been heavily criticised. He's done a U-turn. One wonders is this the first of many U-turns?"
He added: "Just how strong is the government? That's really the question."
Earlier this month, Labour leader Ed Miliband questioned whether it was "a wise judgement when [the prime minister] is telling everyone to tighten their belts, when he is putting his own, personal photographer on the civil service payroll".
Mr Cameron replied that the Conservative-Liberal Democrat coalition had reduced by "two thirds" the amount spent on communications since taking power from Labour in May.
Last week, the Financial Times reported that former Prime Minister Tony Blair had requested that an official photographer be employed by the Civil Service when he came to power in 1997.
But this was blocked by the then Cabinet Secretary Sir Richard Wilson as an unjustifiable use of taxpayers' money, it added.
Earlier this month Labour's Mr Dugher wrote to the current Cabinet Secretary Sir Gus O'Donnell, asking whether the appointments of Mr Parsons and Ms Woodhouse had been appropriate.
Sir Gus replied that they offered a "legitimate service to government", adding that to "have allowed the Conservative Party to have paid for a government service would, in my view, have been inappropriate".
Related Internet Links
The BBC is not responsible for the content of external sites.