Johnson still at odds with Miliband over tax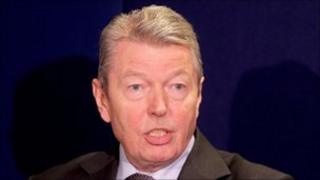 Shadow Chancellor Alan Johnson has said he disagrees with Labour leader Ed Miliband on two key tax policies.
Mr Johnson, who backed Ed's brother David for party leader, is against a graduate tax and does not think the 50p top rate should be permanent.
He told BBC One's Politics Show Labour had yet to come up with a "considered policy" in these areas.
Conservative deputy chairman, Michael Fallon, said it was "an extraordinary admission" by Mr Johnson.
Mr Johnson said both he and Mr Miliband were "determined" to sort out their policy differences.
Ed Miliband spoke out against university tuition fees during his campaign for the Labour leadership, saying he favoured a graduate tax instead.
But Mr Johnson, who as an education minister steered tuition fee legislation through Parliament, has been a vocal critic of a graduate tax.
'Cut and thrust'
He admitted there was a "very big difference" between himself and Mr Miliband on this issue but he said the shadow cabinet were in the process of working out a new policy - and he had shifted his own position since the publication of Lord Browne's report.
He said the issue now was whether graduates should be paying for the whole of their higher education, adding: "I disagree with that fundamentally."
Mr Miliband enhanced his standing with trade unionists and Labour's left, whose support proved decisive in the leadership ballot, by saying the increase in top rate income tax to 50p introduced by Alistair Darling should be permanent.
'Enforcer'
Mr Johnson argued in a press interview over the weekend that it should be a temporary measure to help Britain through its current economic troubles.
Asked whether he was contradicting his leader, Mr Johnson said: "You have to separate out what's going on in a leadership contest, where people say all kinds of things in the cut and thrust of that campaign - and where we stand now."
Mr Johnson, who is on the Blairite right of the Labour Party, was a surprise choice for the role of shadow chancellor, getting the job ahead of Ed Balls and Yvette Cooper.
He said it was a "mark of the man" that Mr Miliband had appointed him to such a key role despite their differing views - and he denied the party was on the verge of a new civil war between its leader and shadow chancellor.
"We are working through these issues - on the graduate tax and on the 50p tax rate - and we will provide a considered policy option at the right time. We are not setting all our policies out now," he told the Politics Show.
"We have to discuss those differences of opinion like mature people, which is really a mindset I think Ed has brought into the party and I think that is commendable."
'Labour disagreement'
Mr Johnson has been described as Ed Miliband's cabinet "enforcer" - the man who the other members of the shadow cabinet must go through to get approval of their policies.
And he insisted "we have to have some discipline here and we will."
But he said his first task as shadow chancellor was to expose what he said were the coalition's lies about Labour being responsible for bringing the UK to the brink of bankruptcy.
"It is a very serious misrepresentation of our position and the last 13 years," he told The Politics Show.
Mr Fallon said Mr Johnson's comments showed Labour did not have a "Plan A".
He said: "It's an extraordinary admission from Alan Johnson that senior Labour leaders still can't agree amongst themselves on central issues like top rate tax and tuition fees.
"Seven weeks after he was chosen, Ed Miliband still can't make up his mind - there's still no Plan A."