UK aid to Afghanistan 'needed for 50 years'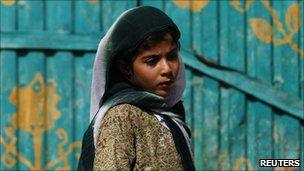 The UK will need to provide aid to Afghanistan for 50 years, a former top envoy to the country has said.
Sir Sherard Cowper-Coles said the UK's role in Afghanistan must not end when British combat troops withdraw in 2015.
He told MPs he foresaw a long-term UK role for training Afghan troops, saying continuing lack of political progress was hampering efforts on the ground.
Ministers say front-line troops will leave by 2015 but they are fully committed to the mission until then.
The UK government announced a 40% increase in development aid to Afghanistan in July, on top of the £500m in spending already earmarked for the next five years.
The money will be used to help stabilise the most insecure areas, with more policing, emergency food and medicine, and thousands of job and training opportunities.
Giving evidence to the Foreign Affairs Committee, Sir Sherard Cowper-Coles - who was ambassador to Kabul and then headed the Foreign Office unit dealing with Afghanistan and Pakistan - said a 50-year aid programme would be needed, backed up by a "vigorous" political process.
He warned of "chaos and civil war" if the 9,000 UK troops in Afghanistan left "precipitately".
However, he was critical of western policy in Afghanistan, saying it has focused too much on military success and not enough on providing good government.
The strategy was not working and to many people in Helmand, where the bulk of British troops are based, he said, the Taliban provided a less bad and predictable alternative to the government in Kabul.
The strategy of taking and holding ground in Helmand was never as successful as it looked, he suggested, but soldiers who questioned optimistic reports sent to ministers were told they were being defeatist so the true story was never told.
While there had been successes in Helmand they had not been accompanied by political progress, so the Taliban remained an attractive alternative.
"They are violent, they are unpleasant, but for many southern Pashtuns, in my view, they represent a less bad alternative - a fairer, more predictable alternative - than a corrupt and predatory government," he said of the Taliban.
The BBC's International Development Correspondent David Loyn said Sir Sherard had never been publicly as outspoken as he had on Tuesday in detailing what he believes has gone wrong.