Harriet Harman faces Labour anger over Woolas comments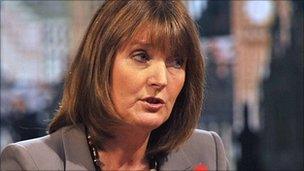 Deputy Labour leader Harriet Harman has faced anger from Labour MPs after her decision to disown expelled MP Phil Woolas.
It has provoked what Labour MPs and ex-ministers call a "mutiny" against the Labour leadership at Westminster, the BBC's John Pienaar says.
Ms Harman faced the backbench anger during a meeting of Labour MPs on Monday evening.
Mr Woolas says he has had pledges of support from "dozens of colleagues".
BBC North West political editor Arif Ansari said former Foreign Secretary David Miliband was among Labour MPs to have offered Mr Woolas their backing.
Mr Woolas is raising cash for a legal challenge to the election court ruling which led to his axing as an MP and suspension from Labour.
According to one MP present at the Monday meeting, Ms Harman was described to her face by one colleague as "a disgrace". Another suggested she should "consider her position" - political code for resignation, BBC Radio 5 Live's chief political correspondent John Pienaar said.
He added that a former cabinet minister said: "I have never seen anything like it. Harriet was attacked from every direction."
He is seeking a judicial review of that decision.
But on Sunday deputy Labour leader Harriet Harman indicated that Mr Woolas had no future as a Labour MP even if he succeeds in overturning the verdict.
She said it was "not part of Labour's politics for somebody to be telling lies to get themselves elected".
Section 106 of the Representation of the People Act makes it an offence to publish "any false statement of fact in relation to the candidate's personal character or conduct" to prevent them being elected - unless they believed it was true and had "reasonable grounds" to do so.
A Labour spokesman said: "In terms of the specifics of the PLP (Parliamentary Labour Party) meeting, we do not comment on private meetings."
But Labour MP Graham Stringer said he wished that Ms Harman had not made her comments, saying she had gone "far too far" and not recognised Mr Woolas' contribution to the party over many years.
"The feelings in the parliamentary Labour Party were very strong," he told the BBC. "There are big issues involved here in terms of the future of our democracy and for Phil Woolas personally.
"I feel Phil Woolas has been treated in an unbalanced way. He still believes he has the right to appeal."
Both Labour and Conservative MPs have expressed concerns that judges should be able to overturn an election result - the first such case for 99 years - and the precedent it sets for future contests.
While "not in a position" to pass judgement on Mr Woolas' conduct during the campaign - in which he was accused of stirring up racial tensions to win votes - Mr Stringer said election battles in marginal seats were not "Sunday-school outings".
"If the courts get involved in elections when people go over the top on policy and sometimes tell lies then we are going to have a very strange electoral process in future," he said.
If candidates felt that they have been defamed, he suggested they should seek legal redress rather than trying to change the decision of the voters.
But Labour MP Jack Dromey, who is Harriet Harman's husband, defended her response.
"I think Ed Miliband and Harriet have done absolutely the right thing," he told the BBC's Daily Politics.
"It is no part of our politics to tell lies, to fan prejudice to win votes. What happened was wrong. I've always believed in what I've called standing on the moral high ground. How we conduct ourselves is of the highest importance."
The Conservatives said Labour were squabbling over the issue rather than "sorting out the mess" they themselves had created.
"Labour's defence of an MP who was found to have brought disgrace to politics is extraordinary," the party's deputy chairman Michael Fallon said.
Since Mr Woolas was stripped of his seat, his former constituency does not have an MP.
Commons Speaker John Bercow has said all legal proceedings must be completed before any move towards a by-election can be considered.
The Liberal Democrats - whose candidate came second in May's election - have sought assurances that constituents will not be without representation indefinitely.