Gordon Brown doubts over international aid target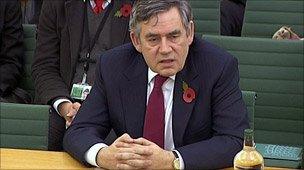 Former PM Gordon Brown has told MPs he does not believe the government will meet its commitment to give 0.7% of income as international aid by 2013.
In his first appearance before an MPs' committee since losing the election, he said, the most likely scenario was: "We will not meet that target."
Aid funding was one of the areas protected from cuts by ministers, who have committed to meeting the target.
Mr Brown also defended his absence from the Commons benches since the election.
The former Labour PM appeared before the cross-party international development committee on Tuesday - a week after giving his first speech in the Commons since April.
One committee member, Conservative MP Chris White, asked why he had decide to wait until now to give his views on international development when he could have made a speech in the Commons.
Mr Brown said the question was "unfortunate" and a "diversion".
He added: "Most former prime ministers have rarely spoken in the House at all. I have decided obviously to concentrate on my constituency work and do some of the work that I've been doing internationally, but at the same time I've taken a very big interest in some of the questions that the government that I led was involved in."
He raised the issue of international aid - which all the main parties had agreed should rise to 0.7% of gross national income by 2013 - towards the end of the two-hour session, telling MPs the government should not rely on a "one-off payment to the World Bank" to meet the target.
"The most likely outcome as I see it at the moment is we will not meet that 0.7 target. As I understand it, the way to get to that target is one-off payments to the World Bank and I don't think that will actually work or convince anybody."
He was challenged by Conservative committee member Pauline Latham who said the coalition had given a commitment to reach the target - Mr Brown said he hoped they would.
But he added: "What I'm really pointing to is my reading of the figures which is 0.56% [of national income given as aid] in 2011, 0.56% in 2012 and then it goes up to 0.7%."
He said reaching the target could "not be done in a one-off basis" and people would "feel let down" if the government was only able to get to 0.7% in 2013, but could not sustain it beyond that.
Mrs Latham told him the government had not said there would be one-off payments and were conducting a review: "I don't think you can say it's not going to happen because you don't know at this point in time, but we are in a difficult financial situation - which you are only too well aware of."
Mr Brown said international aid had risen consistently and sustainably as a percentage of national income under Labour - at a time incomes were rising. Mrs Latham responded: "It would have been nice if we had been left in that situation."
The former PM concentrated his comments during the hearing on Africa, suggesting the continent was at a turning point. He said it was one of the fastest growing continents - with 40% of Africans now owning mobile phones and there had been "enormous progress" in education, child mortality rates and fewer people dying from malaria.
But he said there was a problem "that aid is likely to fall, not rise, as a percentage of national income in the developed countries" - and Africa still had millions of children not at school and high death rates for infants.
"It could be the best decade of development for Africa and developing countries but here's the problem, that in the next few years there is likely to be less resources available. We have got to find new ways of making sure these resources are available."
He floated the possibility of a global tax - as some countries had reneged on aid promises - as well as public and private investment, suggesting the West had been too short-termist while China had been "prepared to invest long term".