Senior Conservative calls for prison vote debate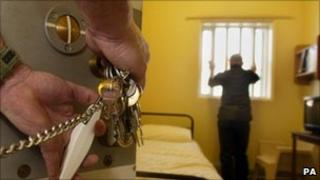 A senior Tory MP has called on the government to challenge the European Court of Human Rights ruling against the ban on prisoners voting.
David Davis said parliament should get the chance to reject the decision and take on the court.
Prime Minister David Cameron said he had had no choice but to lift the ban because it would cost £160m not to comply with the ruling.
But Mr Davis said the decision was none of the European court's business.
Speaking on BBC1's Question Time, Mr Davis, a former shadow home secretary, said: "They said in the judgment that one of the reasons they made this decision was because there had been no debate in Parliament.
"Well maybe they didn't go back to 1867. Maybe they didn't realise there was a democracy here then but that's when it was debated and we made a decision."
Mr Davis said he would offer Parliament three options - give prisoners the vote, give some prisoners the vote or disagree with the Court.
"Then let's see the ECHR overturn the decision of a democratic body like Parliament. That's what I would do," Mr Davis said.
The row over prisoners voting in the UK has dragged on since 2005 after the European Court of Human Rights said that the UK's blanket ban was unlawful.
In June the Council of Europe, an inter-governmental organisation that oversees and enforces rulings made by the ECHR, urged the coalition to act.
Juliet Lyon, director of the Prison Reform Trust, told the BBC many prison governors believe voting is an important part of resettlement and prison is about rehabilitation as well as punishment.
Frances Crook, director of the Howard League for Penal Reform, said the right to vote was a good means of engaging individuals with the responsibilities of citizenship ahead of a safe return to the community.