Recruit retired army officers for schools - Heseltine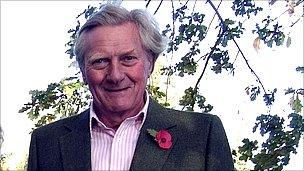 Recruiting retired army officers to provide school discipline are among the shock tactics for failing schools advocated by Lord Heseltine.
"Boys who have had no male in their lives to give them any sense of discipline or adventure" would benefit, he told the BBC's HARDtalk programme.
Heads of the worst schools should be told to improve or be sacked, he added.
Lord Heseltine served under John Major and Margaret Thatcher, but failed in his challenge for the Tory leadership.
He was deputy prime minister under the Major government and held cabinet posts including industry, environment and defence.
Asked how he would tackle the job if he were to be education secretary, he said: "Whilst I think [Education Secretary] Michael Gove is doing some very interesting things to improve the quality of education, I would have started the other end of the spectrum.
"I think the head teachers in the 100 worst sink schools in this country would have got a letter from me, or from the local council via me, which said - You've got six months and if there's no change in the way that this school is being appallingly mismanaged, your job is on the line."
There are many good young teachers, including many women "potentially doing a wonderful job, but you've got people in that school who are frankly young thugs", he said.
"Why don't you recruit retired army officers to act as the discipline within a school?"
Mr Gove has pushed for the creation of more academies - schools outside local authority control.
But while under Labour the programme was used primarily to target schools in disadvantaged areas, the Conservative-Liberal Democrat coalition's initial emphasis has been on allowing schools rated "outstanding" by Ofsted to convert to academy status.
However, last week, Mr Gove said that he wanted thousands of underperforming schools to become academies, run by sponsors of successful schools.
He said he would be ready to use powers under the Academies Act, passed in the summer, to force schools requiring significant improvement to become academies.
The Department for Education, in its business plan published on Monday, says it also plans to create new programmes to attract "the best" into teaching, specifically including former members of the armed services.
You can watch Michael Heseltine's interview with the BBC's Hardtalk programme on Tues 9th November on BBC World News at 0430, 0930, 1530, and 2130 GMT and in the UK on BBC News Channel at 0430 and 2330 GMT. UK viewers can watch the programme online via iPlayer for the following seven days.
Related Internet Links
The BBC is not responsible for the content of external sites.