'No quick wins' in party funding probe, watchdog warns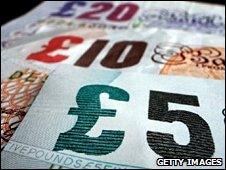 Standards watchdog Sir Christopher Kelly has warned there will be no "quick wins" as his committee opened an inquiry into political party funding.
He said parties must show flexibility if there was to be a "sustainable" solution to the long-running debate.
The issue of party funding has proved contentious - cross-party talks on the issue broke down in 2007.
Committee members repeatedly pressed Electoral Commission chair Jenny Watson to say whether big changes were needed.
Ms Watson and her colleague Lisa Klein were the first witnesses quizzed by the Committee on Standards in Public Life, as it opened its inquiry on Wednesday.
A previous committee's recommendations helped set the current party funding framework 10 years ago. But chairman Sir Christopher said times had moved on and there had been a "number of unintended consequences" - including the "big donor culture".
Following the expenses scandal the committee had decided to take a "fresh and independent look at the issues", he said.
"There are unlikely to be any quick wins. Unlike MPs' expenses, there are unlikely to be any unambiguously right answers," he said.
The committee would have to look at the different parties' traditions and to "democratic engagement in the political process" he said.
"Any sustainable solutions will require all parties to show a degree of flexibility," he said - as no proposals may be entirely to their liking.
But he pledged there would be "no deal behind closed doors".
Ms Watson, chairwoman of the Electoral Commission which regulates party funding, made a series of points she believed the inquiry should consider, including a recent Supreme Court ruling on forfeited donations and money from overseas-registered companies coming into UK politics.
She urged them to look to the future, not fight past battles - pointing out that plans for fixed-term parliaments could make election spending easier to regulate and elected police commissioners and peers would also require new spending rules.
Ms Watson also raised concerns about increasing the burden on local party treasurers - who would have to deal with any changes to legislation, and were unpaid.
She urged the committee to be clear about their intentions, and spell out the clear "philosophical and moral" principles the system should be based on. The previous changes had been largely about improving transparency, she said - and transparency was now established as part of political funding.
But her refusal to say whether she felt the system needed completely rethinking or just "tidying up" appeared to irritate the committee.
Sir Christopher said there was appeared to be a belief there was "something wrong" with the system - and parties had all done "things which looked like trying to get around the existing rules".
But asked if something was "fundamentally wrong" Ms Watson replied that such questions were "judgements you will have to make as a committee".
She said it was not for her commission to say there were "some types of money that's desirable in politics and there are some types that are not", or to make "policy decisions".
Oliver Heald - the MP on the committee - asked if characterisations of party funding as being a "sleaze pit" or that it "stinks" were fair.
Ms Watson said there was transparency that allowed allegations to be raised - but that was not to say changes could not be made. Mr Heald suggested it would be "nice" to get the opinion of the people who were overseeing the current system.
Sir Christopher told Ms Watson: "We are up against a brick wall because we are disappointed you are not prepared to think more widely than you are prepared to do".
The inquiry will publish its recommendations on party funding in spring next year - following a series of public hearings.
There has already been an effort to reach an agreement on reforming party funding - in 2006 another review was launched, in the wake of the cash-for-honours row.
But talks were abandoned in October 2007 as parties clashed over Labour's trade union funding and Conservative donor Lord Ashcroft's funding of Tory candidates in marginal seats.
Related Internet Links
The BBC is not responsible for the content of external sites.