Defence chief welcomes UK-France defence co-operation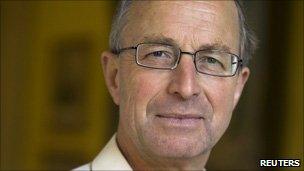 The new head of the armed forces has said it makes "absolute sense" for Britain and France to work together on defence, ahead of a summit.
PM David Cameron and French President Nicolas Sarkozy are expected to sign a defence treaty on Tuesday.
Mr Cameron told MPs it was "in the long term interests of both our countries" to work closely on defence.
General Sir David Richards played down reports troops could be deployed as a single brigade.
The summit comes weeks after Mr Cameron announced wide-ranging cuts to the armed forces in the first strategic defence review since 1998. The Ministry of Defence, like most other government departments, has seen its budget cut as the government tries to tackle the budget deficit.
The prime minister told MPs on Monday: "I do seriously believe that this link-up with the French over defence is in the long term interests of both our countries.
"And to those who worry that this might in some way lead to, sort of, European armies, that is not the point. The point is to enhance sovereign capability by two like-minded countries being able to work together."
The Guardian reported that Mr Cameron and Mr Sarkozy would announce plans for British and French troops to be deployed as a single brigade in future conflicts.
But Sir David - who has succeeded Air Chief Marshal Sir Jock Stirrup as chief of the defence staff - told BBC Radio 4's Today programme: "I wait to see the detail of the announcement, I think that's one step beyond what I think is going to be in it.
"We are going to fight in something called an expeditionary joint force, which sees us possibly working alongside them at brigade level, but not within the same brigade."
He said he welcomed closer working between the two countries - Europe's biggest military powers - adding: "From a purely practical military perspective ... we have been working very closely with the French ever since the First World War and since, but particularly in Nato.
"We lost some of that in the 1990s and the last ten years or so.
"So we are almost going back to the very close co-operation we had in the Cold War era. It makes absolute sense from my perspective as we're going to fight alongside the French, which has been our plan for a long time, to be as good as it in training as we possibly can be."
Defence Secretary Liam Fox told the Sunday Telegraph it made "little sense for the two most powerful militaries in Europe to spend more than necessary on duplicate capabilities, which could be delivered in a more cost-effective manner".
He said the summit on Tuesday would focus on joint training, co-operation on equipment and technology and better information sharing and would take the relationship between the two countries to "the closest it has ever been".
Sir David also rejected criticism from defence experts that the defence review had been a missed opportunity for a more challenging re-assessment of the UK's role.
"The trouble is you live in the real world. We were constrained in the degree to which we could go into the 21st Century, if you like, because of things like carrier contracts and so on. We have turned a corner. We now need to continue to turn in that direction.
"I think the reason why there is confusion about it, people don't really understand that in the future you could do with cyber attack what one might have sought to achieve with bombers, for example, even ten years ago. So we do need to continue to move in that direction, properly reflecting the information age and things like cyber."
He said: "I think we did as well as we possibly could and, in many areas, we did more than I did at one stage fear would be the case."
Sir David also said there were "reasons to be cautiously optimistic" about progress in Afghanistan adding "we are just beginning to" turn the tide.
He paid tribute to US commander General David Petraeus, who he said was an "outstanding commander who is now doing all those things that we knew we ought to have been doing five years ago but didn't have the resources or means to do, largely because of Iraq".
He added he was "pretty relaxed" about Mr Cameron's 2015 target for withdrawing combat troops: "It sharpens our attention, it means that resources are put into the operation to enable us to deliver on that deadline".
Related Internet Links
The BBC is not responsible for the content of external sites.