Councils' body says cuts threaten home care for elderly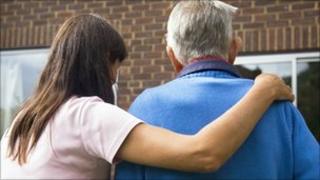 "Virtually all" councils in England and Wales could be forced to end home help for elderly and disabled people, the Local Government Association has said.
The LGA, which represents 422 authorities, has warned MPs budget cuts may result in services being restricted to those with "critical" needs.
A £3bn funding shortfall could affect people with dementia, Parkinson's disease and diabetes, it said.
Care Services Minister Paul Burstow said it was "wrong to scare people".
But shadow health minister John Healey said: "This shows you cannot make big budget cuts without big consequences".
The LGA's warning to MPs came in a written submission.
A LGA spokesman told the BBC that "virtually all" councils would be affected.
"We have been worried about this for some time. If you take 28% out of council budgets, you are bound to limit councils' ability to provide these services.
"In large parts of the country this will mean the end to home help," he said.
The LGA has also warned that "demographic pressures combined with the complex nature of care and support" means that the amount of cuts would be considerably higher than the figures alone suggest.
Mr Burstow said the coalition government had prioritised social care.
"It is wrong to scare people about 'cuts' in social care," he stressed.
"The Spending Review announced significant extra funding for social care for each of the next four years, increasing to an extra £2bn of investment in 2014/15," he said.