Labour vetoed defence cuts plans, says ex-defence chief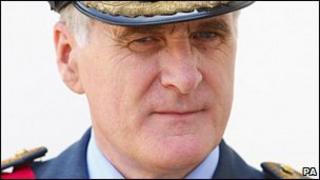 Ex-armed forces chief Sir Jock Stirrup has said defence bosses' plans to cut costs were vetoed by Labour ministers.
Defence Board proposals of "painful" cuts to fast jet aircraft, ships and equipment to deal with a £38bn black hole were overruled, he told the BBC.
But a £5.4bn aircraft carrier order had to go ahead due to an "entirely sensible" deal with dockyards, he said.
Ministers say they had to continue with the controversial carriers because it would be more expensive to cancel them.
Both ships were spared in the defence review but one will be kept in "extended readiness" or sold, while the other will be altered to allow full "interoperability" with US and French jets - delaying its in-service date from 2016 to 2020.
Defence Secretary Liam Fox has attacked the previous Labour government for what he calls a £38bn "black hole" in the defence budget over 10 years - saying they had agreed to spend the money, including £20bn on equipment and support, without any idea of whether the money was there to cover it.
Sir Jock, who stepped down as chief of the defence staff last week, told the BBC's Andrew Marr Show he agreed there were "some pretty unfortunate cases in procurement during the Labour years" but said the main problem was "cost growth" in the budget.
He said the growing costs "needed to be attended to" and the Defence Board, the highest non-ministerial committee at the MoD - had "painful" but necessary plans to manage them.
Carriers contract
But he said the proposals to cut the numbers of fast jet aircraft, ships and Army equipment were "vetoed by ministers of the day because they were, I suppose, politically too difficult".
"When the cost of the programme clearly outstrips the amount of money you are likely to have available under any given scenario, then you have to reduce the total programme, which means you are going to have to cut some things."
Labour's shadow defence secretary, Jim Murphy, has argued that defence projects had gone over budget under both Labour and Conservative governments.
He said his party's government had "invested in defence supporting our armed forces and ensuring they had state-of-the-art kit and the support of helicopters, transport aircraft, fast jets and world-class ships".
Prime Minister David Cameron has attacked the terms of the aircraft carriers contract signed by the former Labour government, telling MPs the government was "left in a situation where even cancelling the second carrier would actually cost more than to build it".
Sir Jock said the reason the carriers had to be built was down to a "terms of business agreement" with the dockyards, which had been drawn up for "entirely sensible" reasons.
"We had too large a shipbuilding industry in this country for what we are able to sustain and we had to come down to one dockyard.
"To enable us to come down to one dockyard the industry had to invest in the necessary rationalisation. They were only going to do that if they had a commitment to a certain level of work for a certain number of years. Part of that work of course was the construction of these two carriers."
There have been criticisms that the defence review - which was carried out at the same time as the wider spending review across all departments - was rushed and dictated by the need to make cuts.
Labour leader Ed Miliband described it as "a spending review dressed up as a defence review" and said it was "not credible".
Sir Jock said there had been a "heated debate" over defence cuts and confirmed that he and other senior defence figures "on more than one occasion" had met Prime Minister David Cameron to discuss the plans.
But he denied that the review had been carried out too quickly. He said if it had come out after the spending review, the Treasury would already have decided what the Ministry of Defence would get.
"We would've had to conduct the second half of the review within that financial straitjacket, now nothing is more finance-driven than that. By doing the defence review at the same pace as the spending review, we were at least able to use some of the strategic arguments in an attempt to influence the resource allocation process - with some success."