Spending Review: Protesters march in Plymouth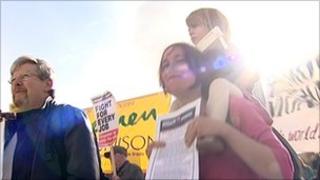 Protesters campaigning against spending cuts have taken their message to the centre of Plymouth.
The government wants to cut £81bn from public spending over the next four years.
The Right to Work campaign claims benefit cuts and job losses will hit hard in the city which depends on the public sector for about a third of its jobs.
The government says the cuts are tough but necessary to reduce UK debt.
Tony Staunton, who was among about 150 marchers, said: "Plymouth is reliant on at least 36% of the jobs in the public sector.
"If we are seeing thousands of jobs going it means that the economy of Plymouth will be devastated."
The South West Observatory, which analyses economic data in the region, estimates that of the 490,000 public sector jobs expected to be lost in the next four years, about 115,000 will come from the South West.
Private sector worker Dave Uren said: "The government says the private sector will pick up job losses in the public sector but I don't think the private sector is strong enough to do that."