Youth Parliament in Commons attack on tuition fees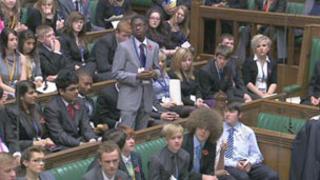 Young people packed the Commons' famous green benches earlier to demand a cap on university tuition fees.
Other issues raised at the lively session of the Youth Parliament include sex education and Afghanistan.
It is the second year running the 11 to 18-year-olds have been allowed to use the historic chamber.
Speaker John Bercow, who chaired their debates, dubbed them a "kaleidoscope of modern society" - half were female, and 20% from ethnic minorities.
The majority of Members of the Youth Parliament (MYPs) who spoke during the debate on tuition fees attacked the Browne review's proposal to remove the cap from its current level of £3,290.
Fees could rise to £6,000 a year or more for many students.
'Future'
Connor Morgan, an MYP for Northern Ireland, who spoke briefly in Gaelic, said raising the cap would mean "education will become a privilege only for those who can afford it".
He said: "Is it just that the current Members of Parliament, many of whom had a university education paid for by the state now expect us, the innocent and disenfranchised in this economic mess, to pay for the mistakes that they have made?
"Is is right that considering we, as young people, are constantly being told that we are the future, our future appears to us to be a burden of debt and uncertain job prospects?"
But speaking in favour of the of the rise in fees, James Bartle from Newcastle said it was "absolutely necessary" to maintain high standards in our education system.
He said: "In the end the person that benefits most from having a degree is the student. If you have a degree you can get better paid jobs, which would be significantly harder if you didn't have a degree.
"It's estimated that over the course of their career a graduate earns on average 23.5% more than somebody who doesn't have a degree. So why should the taxpayer have to pay for the privilege of that young person having that extra money?"
Other topics to be debated will be sex education in schools; raising the school leaving age to 18; withdrawing troops from Afghanistan, and reducing fares on public transport.
Mr Bercow praised the MYPs. He said: "I have always been struck by the fact that 50% of you or thereabouts are female, approximately 20% of you are from black and minority ethnic communities and approximately 10% of you have some form of disability.
"So in terms of representing the kaleidoscope of modern society the UK Youth Parliament does it very impressively and does it in a way from which the elected House of Commons itself can learn."
Mr Bercow told the MYPs that MPs were "united in respect" for their "representativeness as an institution".