Nuclear power: Eight sites identified for future plants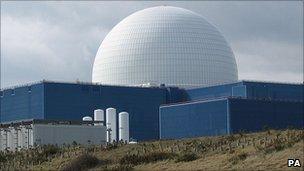 The government has identified eight sites in England and Wales as suitable for future nuclear power stations while ruling out a further three.
Energy Secretary Chris Huhne said Dungeness in Kent and both Braystones and Kirksanton in Cumbria were not suitable for environmental reasons.
While nuclear had a key role to play, he hoped half of all new capacity by 2025 would come from renewables.
But he ruled out plans for a tidal energy scheme on the Severn estuary.
Funding a Severn barrage with public money would be "very costly", he said, and as finding private investment would be challenging, other options should be pursued.
The last Labour government approved eleven locations as suitable for new nuclear plants by 2025 - most on the site of existing plants - but this has been cut to eight as part of a revised draft policy statement presented to Parliament on Monday.
The possible locations are: Bradwell-on-Sea, Essex; Hartlepool; Heysham, Lancashire; Hinkley Point, Somerset; Oldbury, Gloucestershire; Sellafield, Cumbria; Sizewell, Suffolk and Wylfa on the Isle of Anglesey.
The BBC's Environmental Analyst Roger Harrabin said this did not mean the projects - which would be subject to planning permission - would go ahead as Mr Huhne has insisted there would be no public subsidies available for them.
Nuclear power is a potential flashpoint within the coalition government with many leading Lib Dems sceptical about the merits of a new generation of nuclear plants and the Conservatives more enthusiastic. Roger Harrabin said the definition of what constituted a subsidy was likely to be fought over in the coming months.
Critics say the UK is at risk of an energy crisis by the middle of the next decade when many of the existing nuclear plants will reach the end of their lives.
Mr Huhne said the country needed a diverse energy mix with contributions from all sectors but with more emphasis on renewables such as wind power.
"I'm fed up with the stand-off between advocates of renewables and of nuclear which means we have neither," he said.
"We urgently need investment in new and diverse energy sources to power the UK. We'll need renewables, new nuclear, fossil fuels with carbon capture and storage and the cables to hook them all up to the National Grid as a large slice of our current generating capacity shuts down."
Many Lib Dem MPs have traditionally been opposed to further nuclear expansion but Mr Huhne told the BBC the issue was not a "toxic" one among his colleagues.
A majority of MPs in Parliament - including most Conservatives and Labour members - are in favour of building more nuclear plants and Mr Huhne said the Conservative-Lib Dem coalition agreement had made it "very clear" nuclear would be included in the country's future energy mix.
"A deal is a deal. I am there to deliver it," he said.
The list of potential sites is confined to England and Wales as the Scottish government has said it is opposed to future nuclear expansion.
Environmental campaigners Greenpeace said the economics of nuclear power "simply did not add up".
"Lib Dem voters backed a party that supported renewable energy, opposed taxpayer handouts to the nuclear industry and supported full democratic engagement in the planning process," said Jim Footner, head of its climate and energy campaign.
"And local democracy is being kicked out of the door when it comes to nuclear sites. Lib Dem supporters must be furious that local communities will have little say about nuclear power stations in their area, other than choosing the colour of the gates.
"The Liberal Democrats need to stay true to their supporters by dropping the costly distraction of nuclear power and start investing in the clean, renewable and efficient technologies that will tackle climate change and provide tens of thousands of new British jobs."