Miliband opposes child benefit cut for higher earners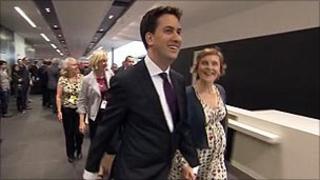 Labour leader Ed Miliband has said he opposes "unfair" plans to cut child benefit for couples who include a higher rate taxpayer.
He told ITV's This Morning Chancellor George Osborne's announcement, at the Tory conference, had been a "shambles".
Mr Miliband said "all families need support" and child benefit had been a good way of doing that for 60 years.
Mr Osborne said it was unfair to ask taxpayers to fund the payments to higher earners at a time of cuts.
And Prime Minister David Cameron said in his speech to the conference on Wednesday that it was fair to ask "those with broader shoulders" to "bear a greater load".
They say it is a necessary part of measures to get the UK's finances back on track after Labour's years in power.
But there has been criticism of the fact that couples with two people earning just below the higher rate of tax - currently about £44,000 but due to fall closer to £42,000 by 2013 - would still get child benefit, while a couple with one person working would lose it if they earned £44,000 or more.
Mr Miliband said the coalition should not be "messing" about with child benefit.
Union warning
"All families need support. I am against the changes that the government is making to child benefit," he said.
"The way they have gone about them has caused huge anxiety, particularly for mums who are staying at home while maybe their husbands are going out to work.
"I will look at the changes the government propose on welfare. We do need to get more people into work and I will look sympathetically at some of the changes that they are making.
"But when it comes to child benefit which has gone to all families for 60 years in this country - it was a legacy of the Second World War - I think it is really important to support families in this country and I think child benefit is a good way of doing it."
He said that the deficit had to be cut, and he said as leader of a "responsible opposition" he would support some measures being taken.
But he warned that he was ready to "fight against" the cuts programme because "the way the government is going about them is frankly irresponsible".
Asked about Culture Secretary Jeremy Hunt's comments about the impact of a benefits cap on family size, Mr Miliband said he did not think politicians should be "lecturing" families.
He also said that public sector workers should not be talking about industrial action at this stage after the publication of Lord Hutton's interim report on the future of public sector pensions.
He said strikes could alienate people and had not always helped union members' cause in the past.
But he said David Cameron and his cabinet should not try to condemn "the whole of the public sector" - the average public sector pension is £7,000, he said, and most public sector workers were not "gold-plated fat cats".
He also said it was "fine by me" if the Conservatives want to underestimate him: "I have been underestimated all along. I was 33/1 outsider when I first declared my candidacy and I won the election."
After the leadership contest, in which he pipped his brother David, he said their relationship was now "different but actually as deep and as strong as it was before".
"We have been through quite a difficult few months, there is no getting away from it. But our love for each other is very, very strong and very deep."