Tory councils' cost-cutting tips
By Brian Wheeler
Political reporter, BBC News, in Birmingham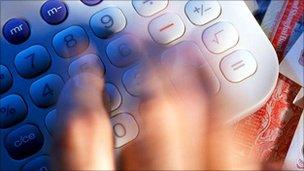 Nobody is going to have to tighten their belts more than local councils over the next few years - so how are they going to do it?
The leaders of three flagship Conservative councils got together at a fringe meeting at their party conference in Birmingham this week to swap ideas for keeping down costs and maximising value for council tax payers' money.
Some of their policies, such as outsourcing as many services as possible to private companies and cutting jobs, will provoke howls of protest from public sector workers and their unions.
Local people might also question what it means for the services they rely on, while Labour and Lib Dem local authorities will no doubt resent the suggestion that they are wasteful and extravagant by comparison.
But what these three councils, from London and the Home Counties, do today other local authorities across England and Wales may be expected to do tomorrow.
Local government minister Bob Neill, who was also on the panel, heartily endorsed most of the points they raised.
As a snapshot of where the coalition stands, ahead of the next local government spending settlement, the session was hard to beat.
So here, in no particular order, are their top cost-cutting tips:
Be more transparent. Publishing councillors' expenses online is just the start. Once local citizens can read how their money is being spent the pressure will really be on to cut costs. Or so the theory goes. David Burbage, leader of Windsor and Maidenhead Council, which cut council tax by 4% this year, was the first council to publish all items expenditure above £500 - something that will soon be compulsory for all local authorities. His council is now pioneering a scheme in which all council energy consumption is displayed in real time, which led on the first day to a 25% cut in their bill.
Don't compromise on quality. "Cutting costs doesn't mean cutting quality," said Edward Lister, leader of Wandsworth council. "If you are going to do it, do it properly, otherwise you are better off not doing it at all."
Get control of the cash. You can't "bear down relentlessly on costs" and cut council tax bills without getting full control of the purse strings from your civil servants.
Learn to speak civil servant. Stephen Greenhalgh, leader of Hammersmith and Fulham council, urged fellow Conservative councillors to find "a language to that resonates with people who work in the public sector - it's no good frothing at the mouth and saying 'I am really going to enjoy implementing the cuts'. They will think you are a nutter. Start off by saying 'we are here to deliver value for money and, by the way, if you want to spend any money you need my approval'".
Don't run arts centres. Stick to what councils are good at doing, advised Edward Lister, such as keeping the streets clean and maintaining infrastructure. Don't run arts centres or museums - outsource them to charitable trusts instead. Not only did doing that save Wandsworth money, and led to a better run theatre, there were now productions "that are actually worth going to - there's no dead hand of Wandsworth Council trying to be an arts organisation. We are no good at things like that. That's not our world," said Mr Lister.
Outsource as many services as you can. Edward Lister again: "Ask yourself, do we need to provide all these services - can somebody else do it?".
Be "Stalinist". "If you have got Stalinist structures use them," joked Mr Greenhalgh. When he took over in Hammersmith and Fulham, he told the meeting, he froze recruitment for two years and "every single post had to be approved by me," which helped cut the council pay roll from 5,000 in 2006 to 3,500.
Don't take no for an answer. Many cost cutting ideas are blocked by council officers on the grounds that the job or service in question is a legal necessity, one councillor from Kettering told the meeting. The panel advised councillors to carefully check the facts before accepting such assertions.
Pinch ideas from other councils. Competition between neighbouring councils over who has the lowest council tax is key to driving down costs, the panel agreed, and council leaders should not be afraid to steal the best ideas from other authorities, or to share services and back office functions.
Related Internet Links
The BBC is not responsible for the content of external sites.