Why did the Tories not win the 2010 general election?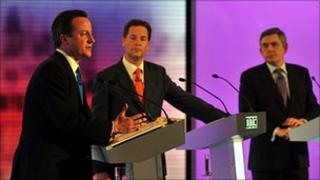 It was the one party conference panel no MP wanted sit on.
Officially, the Conservative Party is achieving as much, if not more, in coalition with the Liberal Democrats than it would have done if it had been governing on its own.
All of the dire predictions about what would happen if there was a hung Parliament have proved wide of the mark.
Even Ken Clarke, who bowed to no-one in his doom-laden warnings about indecisive election results, is happy to admit that he got it wrong.
The one thing the party leadership do not want to talk about this week is why they did not win an outright majority in May's general election.
They were, after all, facing a massive open goal - as Tim Montgomerie pointed out at this lunchtime post mortem of the 2010 campaign.
They had a divided Labour Party, "one of the most unpopular prime ministers in living memory", and one of the most "racked" economies in the Western world, said the ConservativeHome editor.
So how was it that they only managed to increase their share of the vote by 4% on the 2005 general election result achieved by Michael Howard?
'Self-denying'
Lord Ashcroft, who did so much to shape, and fund, the party's strategy after its 2005 defeat has his own theories on what went wrong.
But he could not be at Tuesday's lunchtime fringe. "He's observing a self-denying ordinance," noted panel chairman, Spectator editor Fraser Nelson dryly.
As a consolation prize, we were all given a signed copy of his book on the 2010 campaign, Minority Verdict. Not that we needed it.
The dissection of what went wrong, from the panel of political hacks and an audience of defeated candidates, was clinical - and would not have made comfortable listening for Mr Cameron and his team.
It was nothing to do with policy being too left or right wing, and everything to do with presentation or, as Tim Montgomerie argued, a lack of "basic professionalism" at the top of the party.
The main problem was a lack of coherence in the party's message to voters, a problem that could be summed up in three words: The Big Society.
Nobody, least of all the candidates who had the job of selling it on the doorsteps, understood what it meant, the meeting heard.
Fraser Nelson asked for a show of hands on who in the audience had found it a useful campaigning tool. Not a single hand was raised.
Tim Montgomerie said that although the concept was useful in government it was "inexcusable" that the Big Society had not been tested in a focus group or polling before it had been launched as an election pledge.
'Clegg surge'
Iain Martin, of the Wall Street Journal, criticised the party's manifesto, which had the words 'an invitation to join the government of Great Britain' embossed on its cover, saying it "must have sounded like a great idea when Oliver Letwin and Steve Hilton came up with it but I can not imagine it flying in marginal Conservative seats".
The Conservatives had forgotten how to talk to aspirational lower middle class voters in the way that Margaret Thatcher and Tony Blair had done, he argued - to agreement from members of the audience.
Mr Montgomerie argued that the party should never have agreed to the televised leader debates.
They gave equal billing to the Liberal Democrats, and the "Clegg surge" that followed ruined the Tories' carefully-crafted, Ashcroft-funded, target seat strategy by totally "reshaping the battleground".
Next time, the party should find a way to reduce their impact on the campaign, he argued.
He also criticised the BBC for coming at every question from a pro-public service point of view, and not doing enough to stand up for the interests of taxpayers.
'Presidential'
There was also criticism of George Osborne's dual role as shadow chancellor and campaign supremo.
By now, as Fraser Nelson observed, the meeting was turning into a therapy session, as one Tory election candidate after another vented their frustration and anger at what had gone wrong.
The campaign was too "presidential", focusing too much on David Cameron. The Conservatives did not have enough household names on the front bench. Local candidates had been stifled by the party machine, and not allowed to express themselves.
Tory ministers had come across as too "nice". The leadership had been too timid and eager to please everyone. And so on.
There was a remarkable degree of consensus at the meeting about what had gone wrong, but not much time to talk about what they could do differently next time.
Other than to agree that different it must be.