Guide to most costly UK benefits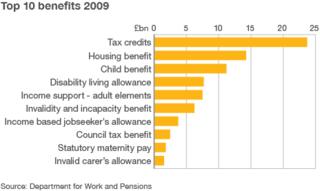 With the benefits system requiring a bigger budget than almost any other area of government, reform is key to plans to cut the UK's deficit.
The government is considering replacing dozens of benefits and tax credits paid to those out of work or on low wages with a single payment or "universal credit".
Prime Minister David Cameron says only the state pension would definitely be protected, so of the remaining working-age benefits currently being paid, which are the 10 most costly?
Tax credits
Application: Means tested
Cost: £23.7bn
Status: Under review
Nine out of 10 families with children currently qualify for child tax credits, and some people on low income may also be in line for working tax credits.
The amount paid depends on how much you earn and personal circumstances such as the number of children living with you or whether you pay for childcare.
In his June Budget, Chancellor George Osborne announced changes to the existing system, due to take effect next year.
Currently, families with children and an annual income of up to £50,000 receive £545 a year.
Payments are then gradually reduced as people's income rises above £50,000, a process known as tapering.
But from April 2011, the £50,000 limit will be reduced to £40,000, and the rate at which payments are cut will be substantially increased.
There will also be changes to thresholds relating to claimants' income, which will reduce tax credits more quickly for modest and higher earners.
Housing benefit
Application: Means tested
Cost: £21.5bn
Status: Under review
You do not have to be out of work to be eligible for housing benefit, which is aimed at people on low income who need help paying their rent.
There are restrictions though, including those who have savings of more than £16,000, people living in the home of a close relative, full-time students, and asylum seekers.
In June, the government capped weekly payments at £280 for a flat and £400 for a house - saving £1.8bn a year.
It said the UK was spending more on housing benefit than on the police and universities combined.
Child benefit
Application: Universal
Cost: £11.2bn
Status: Scrapped for higher rate taxpayers from 2013
All parents regardless of their income are currently eligible for this tax-free payment, with £20.30 paid a week for the eldest child and £13.40 for subsequent children.
Around 7.7 million families with children receive the payment, which continues until the age of 19 for those in full-time education.
Chancellor George Osborne has announced the benefit will be scrapped from 2013 for higher rate taxpayers in a bid to save around £1bn.
Any couples where one parent earns about £44,000 - roughly the 40% tax level - or higher will lose the payment.
Disability living allowance
Application: Eligibility criteria
Cost: £7.7bn
Status: Under review
DLA, as it is known, is paid to disabled children and adults who need someone to help look after them, or who have difficulties walking. Blind people and people with other physical or mental disabilities may also be eligible.
Claimants have tripled to some 2.9 million since it was introduced 18 years ago, according to the government.
Work and Pensions Secretary Iain Duncan Smith recently said the benefit would remain separate from "universal credit", with carers free to take part-time or short-term work without losing their benefits.
There are no plans to reduce DLA, but a strict new medical assessment is due to be introduced from 2013 to help claimants "reduce dependency and promote work".
But charities working in the sector have expressed alarm, saying people with learning disabilities may lose out.
Ministers hope to save £1.4bn by 2015, suggesting many claims will be rejected.
Income support
Application: Means tested
Cost: £7.5bn
Status: Under review
Paid to people on low income who do not have to sign on as unemployed, the benefit could be among those replaced with a single universal payment.
To be eligible, you have to be aged 16 to 59, work fewer than 16 hours a week, have a low income with no more than £16,000 in savings, and generally not be studying full time.
Lone parents, carers, those on paternity leave, and refugees learning English may also be entitled, and it includes limited help with mortgages.
The weekly personal allowance for people aged 16 to 24 is £50.95, and £64.30 for those aged 25 or over.
Incapacity benefit
Application: Contributions based
Cost: £6.2bn
Status: Under review
Around 2.6 million people are thought to claim incapacity benefit (IB), or its successor, the employment and support allowance (ESA).
It is a weekly payment for people who cannot work because of illness or disability and who are under state pension age.
IB was replaced by ESA for people who faced illness or disability after 27 October 2008, and is gradually being phased out by 2014.
The new system is designed to get people into some kind of work, cutting the total amount paid out while protecting those with "genuine needs".
Jobseeker's allowance
Application: Contributions based/income based
Cost: £3.7bn
Status: Under review
Introduced in 1996, this is the main benefit for people out of work or who work less than 16 hours a week.
Claimants are obliged to "sign on" at their local Job Centre every fortnight.
There are two types of benefit: A contribution-based one pegged to National Insurance payments over the previous two tax years, and an income-based dependant on income and savings.
The maximum weekly rates for the latter range from £51.85 for a single person to £102.75 for couples.
Council tax benefit
Application: Means tested
Cost: £2.5bn
Status: Under review
This is the benefit offered to people on low income to help them pay their council tax bill - the local property tax in England, Scotland and Wales charged for services such as planning, transport, highways, police, libraries and rubbish collection.
Most asylum seekers and people sponsored to be in the UK will not be eligible, nor will those with more than £16,000 in savings, but you do not have to be working to get it.
Claims are assessed in a similar manner to housing benefit, and where claimants are in line for both, usually at the same time.
Statutory maternity pay
Application: Contributions based
Cost: £1.8bn
Status: Under review
A weekly payment from an employer to help women take time off work before and after their baby is born.
Women in the UK are currently entitled to a year off, with the first six weeks on 90% pay, followed by 33 weeks on Statutory Maternity Pay of about £125 a week, and the remainder unpaid.
To claim, you have to be employed by the same employer continuously for at least 26 weeks into the 15th week before the week your baby is due.
Woman also have to earn at least £97 a week, so that National Insurance contributions apply.
Plans under European law to give women 20 weeks' leave on full pay have been criticised as "unaffordable" by the British Chambers of Commerce, which claims UK firms would lose £2.5bn a year.
Carer's allowance
Application: Means tested
Cost: £1.5bn
Status: Under review
The benefit paid to help people who look after a disabled person. You do not have to be related to, or live with, the person you care for to be eligible.
You have to be aged 16 or over and spend at least 35 hours a week caring for someone to get the weekly rate of £53.90.
Exclusions include people in full-time education with 21 hours or more a week of study, and carers earning more than £100 a week after certain deductions.