Volunteering to be 'rite of passage' - Francis Maude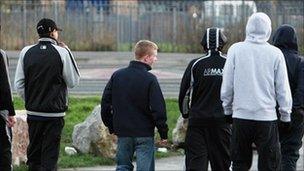 A new volunteering scheme for teenagers will become a "rite of passage to adulthood", Francis Maude has said.
The cabinet office minister told the Conservative Party conference the National Citizens Service would have 10,000 places when it launches in 2011.
He said it would "mix people from all backgrounds in a robust programme of outdoor challenge and... social action" and help bind Britain together.
The service will expand to provide 30,000 places for 16-year-olds in 2012.
The government's aim is to give every 16-year-old the opportunity to participate in an eight-week programme of residential and home-based events.
This will include 10 days away from home, and teach them to be "socially responsible".
Mr Maude told party members gathered in Birmingham: "We are often bound together as a nation by experiences that we share. The agony of the World Cup every four years, cheering our athletes to victory at the Olympics, supporting our troops to name just a few.
"The National Citizens Service will be a rite of passage to adulthood for young people - ultimately, we hope, for all of them.
"No one expects this to be an overnight transformation. But you have to start somewhere. Over the years, and the decades ahead, this programme will gradually help to build a bigger, stronger society, more cohesive, citizens with a stronger engagement with their communities, with a deep sense of social responsibility."
In his speech Mr Maude, who is playing a key role in the coalition government's spending cuts and Whitehall reorganisation, also attacked Labour's failure to keep a check on spending while in office.
He said renegotiating contracts with suppliers had already saved "several hundred million pounds" this year.
"Because of the Labour legacy a load of dedicated public servants will lose their jobs. We will never forget that every single job lost represents a disaster for a family," he said.
Mr Maude said his cost-cutting measures would save around £3bn, and he said he "sometimes ask why none of my Labour predecessors" - including Ed Miliband - "bothered with this".
He asked whether the new Labour leader was "a bit grand for it".
Related Internet Links
The BBC is not responsible for the content of external sites.