Prime Minister David Cameron's conference week task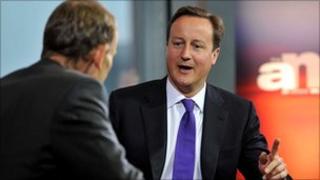 With a new austere haircut David Cameron used his interview with Andrew Marr to try and steel his troops for the testing days ahead.
The spending review, which will set out the scale and detail of public spending cuts, is just over two weeks away and looms large over this conference.
After weeks of ever more lurid headlines of budgets to be slashed, programmes to be axed, David Cameron is trying to bring some reason and perspective to the process.
In a series of interviews at the start of his first conference in power, he acknowledges that the cuts won't be popular, but he has been pointing out that government departments are being asked to save around 5% a year - when many businesses are going through far more radical cutbacks.
There is a concerted effort here in Birmingham to demonstrate that the government is not just out to slash public spending, but does have some positive stories to tell too.
So in the run-up to the conference we have had the agreement on far-reaching welfare reform, and a new initiative to improve cancer care.
The plan to move from the current complex web of different benefits to a single universal credit and ensure people are better off in work has had a guarded welcome so far. But it could take up to a decade to implement the changes, and much will depend on whether Iain Duncan Smith can find significant savings from cutting waste and fraud - something many previous governments have tried and failed to achieve.
The big battle still raging is over the defence budget. David Cameron has had what are being called "lively discussions" with his Defence Secretary after the leak of Liam Fox's letter warning of the dangers of draconian cuts to the military.
This is a potentially toxic issue for the Conservative Party. Many activists and MPs will find it hard to stomach any defence cuts at all and may make sure their concerns are heard on the conference fringe.
Targeting Miliband
The prime minister is keen to blame the previous Labour government for leaving "a complete car crash" of a defence budget with a £38bn black hole in it. As chair of the National Security Council the final big decisions will now rest with him, but many in the military are warning that a strategic defence review cannot be conducted properly if it is part of a wider cost-cutting exercise.
Another big task this week will be to reassure the right of the party that the Conservatives have not abandoned their core beliefs by going into coalition with the Liberal Democrats. David Cameron is keen to point out the Conservative election pledges which have been delivered - while stressing that the coalition partners cannot endlessly seek "baubles to hang on the tree".
The conference theme Together in the National Interest will be reinforced with speeches stressing that the Lib Dems and Tories are acting responsibly to tackle the deficit. Ministers will be turning up the heat on Labour over its economic plans.
It may not be an easy week for the new Labour leader Ed Miliband who has yet to appoint his team, let alone formulate key policies. A Downing Street source said they would be "holding his feet to the fire" over the deficit, demanding to know what he would do to tackle the nation's debts.
One senior Cabinet minister told me he had punched the air with a resounding "yes" when he saw Ed Miliband win the leadership contest largely thanks to union votes.
But some analysts believe that if Labour do come up with a coherent plan for gentler, slower deficit reduction, many voters could find that rather appealing.
With a steady drenching rain outside and a ban on champagne for the top Tory team, the mood here is hardly one of celebration. But one MP reminded me last night, there is one good reason for Conservatives to be upbeat this week: this is their first conference for thirteen years in power.