David Cameron announces bowel cancer screening boost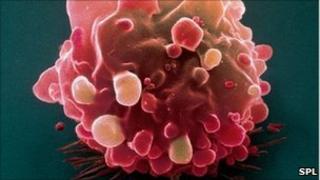 PM David Cameron has announced £60m over the next four years to introduce the latest cancer screening technology.
He said better bowel cancer screening, using flexible sigmoidoscopy, could save 3,000 lives a year.
Mr Cameron said he wanted to close the gap between the UK's rate of cancer survival and the European average by at least 5,000 lives.
Labour said the policy "watered down" its 2009 pledge to deliver diagnostic tests within a week of seeing a GP.
Shadow health secretary Andy Burnham said: "Investment in cancer is welcome but this is a watered down version of Gordon Brown's pledge at the Labour Party Conference last year.
"We committed to delivering all cancer diagnostic tests within one week. This flagship pledge would have saved money and saved lives and it is disappointing not to see it implemented in full."
Cancer Research UK welcomed the use of new screening, saying it could help cut deaths by nearly half.
Speaking on the BBC's Andrew Marr show, Mr Cameron said: "I absolutely want to close that gap [in survival rates] and the announcement today is part of that."
He said recognising early warning signs was a key part of achieving the goal.
Bendy tube
Health Secretary Andrew Lansley said bowel screening pilot schemes will begin next spring, subject to approval by the UK National Screening Committee.
Flexible sigmoidoscopy - also known as Flexi-Scope or Flexisig - will be used alongside existing techniques.
It involves a thin, bendy tube with a camera attached being placed a short way into the rectum and lower bowel. The inside wall of the bowel can then be viewed and polyps removed.
Welcoming the extra screening money, Cancer Research UK - which co-funded a 16-year clinical trial on the Flexi-scope test - called for it to be introduced as soon as possible.
"The recent trial results of this method of detecting and removing polyps before they develop into bowel cancer can truly be called a breakthrough," Harpal Kumar, Cancer Research UK's chief executive, said.
"We believe it could cut the number of cases of bowel cancer by a third and deaths from the disease by almost half (43%) among those attending screening.
"Flexi-scope needs to be brought in as soon as possible. Every week of delay will risk scores of lives.
"Because it will prevent so many cancers, adding this test to the bowel screening programme will spare tens of thousands of families the anxiety and suffering associated with a cancer diagnosis, while also saving the NHS money."
The Department of Health said that to reach the average European cancer survival rates, 5,000 lives a year would need to be saved. To match the best-performing countries in Europe, 10,000 lives a year would have to be saved.
More specialists
The Department of Health has already announced £50m for additional cancer drugs this year, and £10.75m for a "signs and symptoms" campaign, which will focus on breast, lung and bowel cancers.
It also said the government would boost the number of specialists, by continuing the funding needed to deliver 1,200 additional specialists involved in cancer services by 2012.
The DoH said more patients would receive radiotherapy, with £43m worth of investment so that all high-priority patients with a need for proton beam therapy get access to the treatment.
Mr Cameron's promise comes as the government plans a major shake-up of the NHS in England.
Planned changes include giving GPs more responsibility to determine health spending; hospitals to be set free from central control and an independent board to safeguard the NHS from political interference.
The prime minister said: "It's not just about money, it's about how well GPs do their job and we need to improve that as well."
Mr Cameron added: "It's very important as we take the country through some difficult decisions to say, look, there are some things that are so important to families... and the NHS is one of those things."