Welfare benefit reforms unveiled by government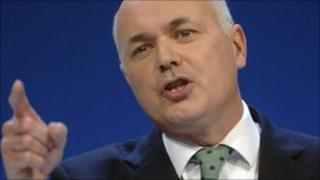 Welfare benefits for the unemployed and low paid could be brought together under a new universal credit system planned by the coalition government.
Work and Pensions Secretary Iain Duncan Smith said the reforms would simplify the welfare system, save money and ensure "work always pays".
The aim is to move everyone off the old benefits system over about 10 years.
The plans, to be put before Parliament in 2011, are likely to be a key issue at the Conservative Party conference.
The government says the proposals would represent the biggest reform of the welfare system in almost 70 years.
'Cycle of dependency'
Under them, claimants would get a single payment, instead of potentially several, separate payments as happens currently, which could be adapted as income changed, such as when people got back into work.
Disability living allowance would remain separate from "universal credit", with the new system allowing carers to take part-time or short-term work without losing their benefits, said ministers.
The changes are being brought in partly to tackle perceived long-term welfare dependency by unemployed people, with some saying they are better off on benefits than working.
Under the universal credit system, claimants could continue to receive some benefit payments when they got back into work - meaning they might be less likely to reject low-paid or short-term jobs.
The government said that compared with the current system, people could earn more before they started losing benefits.
The amount would taper off as their earnings increased.
Mr Duncan Smith said: "We will break the cycle of dependency and poverty that has become so entrenched in our poorest communities. We must turn entrapment into aspiration, dependency into contribution, and poverty into growth."
Welfare reform is key to plans to cut the UK's deficit, but has been the source of reported tension between ministers.
The issue is likely to be a key subject of debate when the Conservatives meet for their annual conference in Birmingham on Sunday.
Chancellor George Osborne and Mr Duncan Smith said they had now agreed on an "affordable investment package" to reform the welfare system, which they said was "broken, wildly expensive and often traps the very people it is meant to help".
Mr Osborne had signalled that he wanted billions of pounds worth of welfare cuts as part of the government's imminent spending review - on top of £11bn outlined in June's Budget.
It is understood Mr Duncan Smith fought hard within government to replace the current system of benefits - including jobseeker's allowance, housing benefit, income support and employment support allowance - with the single universal payment.
However no further details have yet been given of exactly how the reforms will be funded.
Universal credit will use pay-as-you-earn (PAYE) tax data to make it easier to calculate what people are entitled to. This would also reduce the cost of fraud and error, said the government.
In moving everyone to the new system, they said they would "prioritise those who need help most".
"The Department for Work and Pensions and Treasury have worked hard to make sure that there will be no losers as a result of the migration plan," said a statement.
The reforms will be introduced in a White Paper in the autumn, and then put to Parliament in a welfare reform bill next year.
The government said the new scheme, combined with its Work Programme, would also see unemployed people getting more personalised support to get them back into work.
Mr Duncan Smith added: "To those that have been marginalised and abandoned to a life on benefits by Labour I say: 'We will get you back into work and in control of your life'. For the most vulnerable I say: 'We will protect you'.
"And to the taxpayer I say: 'Here is true value for money, a system that invests in you and supports you in your time of need but expects everyone in society to contribute and will no longer allow anyone to choose a life on benefits'."
Parties together
BBC political correspondent Robin Brant earlier said the plans were probably the "most significant reform" of the coalition so far.
Some savings are already being made through restrictions in payments such as housing benefit, but the overall cost to the government is initially expected to rise after the changes are brought in as people return to work and retain some financial assistance.
There are no specific details on how long it will take for the savings to be realised but it is likely to be 10-15 years, our correspondent added.
Carl Emmerson, from the Institute for Fiscal Studies, warned that the new system could potentially lead to some people losing money.
"Most people receiving out-of-work benefits are, by definition, in the bottom half of the income distribution," he said.
"So if they have their benefits reduced or taken away and they don't respond by moving into work, they will be... worse off and clearly the gap between their incomes and the incomes of those who are in work would widen."
Labour MP Frank Field, who is the government's poverty tsar, has said he hopes the political parties will work together to make any reforms work for the long-term benefit of the country.