Talk of government deal over benefit reform downplayed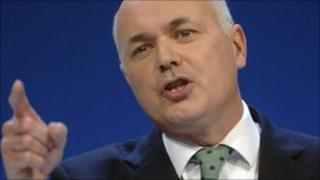 Government sources have denied that an agreement has been reached on introducing a single "universal credit" to replace existing benefits.
Welfare reform is key to plans to cut the deficit but has been the source of reported tension between ministers.
The issue is likely to be a major focus of debate during the Conservative Party conference which starts on Sunday.
Sources told the BBC they were "making progress" but media reports £9bn could be saved in a shake-up were premature.
Chancellor George Osborne has signalled he wants billions of further welfare cuts as part of the government's imminent spending review - on top of £11bn outlined in June's Budget.
'Broad agreement'
As part of this shake-up, it is understood the Work and Pensions Secretary Iain Duncan Smith wants to replace the current system of Jobseekers Allowance, income support and employment support allowance with one universal benefit in an effort to simplify the system.
Friends say they believe Mr Duncan Smith has won "broad agreement" that work should pay more than benefit and that he will be allowed to keep an element of expected savings in the welfare budget to ensure people are not worse off when they move off benefits.
But sources say that although ministers are "making progress", plans are still "very much in the air".
Speaking last month, Mr Duncan Smith said he still hoped to convince Mr Osborne to back his idea to scrap the existing complex system of benefits in favour of a single, universal payment.
'Rewarding work'
This would have a set-up cost, which Labour has estimated could be as much as £7bn, but Mr Duncan Smith said it would save money in the long run, as the long-term unemployed came off benefits and started paying tax.
He has argued that billions could also be saved by eliminating fraud and error in the tax credit system, which is run by the Treasury, which he believed should be scrapped and any savings handed to his department to help pay for his proposed reforms.
Mr Duncan Smith has refused to speculate on the details and the cost involved ahead of the 20 October spending review - in which most government departments are expected to face four-year budget cuts of between 25% and 40%.
Both Mr Duncan Smith and Mr Osborne have played down press reports of disagreements over cuts to the Department of Work and Pensions budget, one of the largest in government.
Details sought
Mr Osborne has said the 45% increase in welfare spending over the past 10 years cannot continue but that rewarding work would be "absolutely central" to future reforms.
Asked by MPs last month about reports that an extra £4bn could be shaved off welfare bills, Mr Duncan Smith said he did not "recognise" the figure.
Labour politicians have claimed there is "chaos" at the heart of government over the issue and that the outcome of any welfare cuts is that vulnerable people will lose out.
"When we looked at similar proposals a year ago we were advised this would either cost billions of pounds or mean big cuts in support for lots of low-income families," said shadow work and pensions secretary Yvette Cooper.
"Ministers need to tell us which it is and where the money is coming from. We support going further on benefit reform, but it must be done in a sensible way to help people into work and keep people out of poverty."