David Cameron says Fox's defence cuts fears 'unfounded'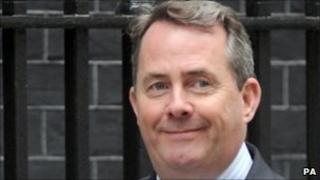 Prime Minister David Cameron has said Defence Secretary Liam Fox's fears over cuts to armed forces' budgets are "unfounded".
Mr Cameron was speaking after the leak of a letter to him from Dr Fox warning of "grave consequences" if there were to be "draconian" spending cuts.
The PM told ITV's This Morning they would not take "bad decisions" and he and Dr Fox agreed there would be "well-funded... strong armed forces".
The spending review is due next month.
Following the letter appearing in Wednesday's Daily Telegraph, Ministry of Defence police began an inquiry into the source of the leak.
Dr Fox said he was "appalled" by the leak and he had had "tremendous support" from David Cameron.
In the letter to Mr Cameron leaked to the Daily Telegraph, Dr Fox said he would refuse to back any substantial cuts to the armed forces.
He said: "Party, media, military and the international reaction will be brutal if we do not recognise the dangers and continue to push for such draconian cuts at a time when we are at war."
He suggested the Tories could destroy "much of the reputation and capital" they had accrued on defence.
He also expressed concern that the strategic defence and security review was looking more like a spending review than a strategic review.
The National Security Council did not make any final decisions on Tuesday, and will meet again after next week's Tory conference, with the review due to report in October.
Won't give in
Mr Cameron told the ITV programme he would never do anything to harm the UK's armed forces, but said there should be a review - citing the example of there being plenty of tanks and aircraft designed for a conflict with Russia, but not enough helicopters in Afghanistan.
"We have thought very carefully about how to fund our armed forces properly and above all how we structure them for the future. We need to fit them for the dangerous world we live in where you need greater flexibility and a different structure of your armed forces. That is what we are going to get right," he told This Morning.
"Of course there are difficult decisions and of course there will be intense conversations between the Treasury on the one hand and the Ministry of Defence on the other.
"While our troops are right now at war in Afghanistan risking their lives, they must get every penny-piece of funding and equipment they need and I will make sure that they do."
Mr Cameron also hit out at new Labour leader Ed Miliband: "To say 'forget about the deficit' because it is somehow pessimistic to talk about it, that would be completely betraying the country".
He said he was an optimist and believed the country had a bright future once the deficit was tackled, adding: "If you are trying to do this job properly it is not about being popular, it is about trying to do what is right."
Asked if he thought the mass strikes and protests seen elsewhere in Europe could spread to the UK, he said: "I very much hope not and I don't believe it's necessary.
"The public is very savvy and they know we have been living beyond our means and we have to deal with this problem.
"We will work very hard together to try to take people with us. But we should be clear that if someone kicks off, we are not going to sort of give in at the first sign of trouble."