Extracts from David Miliband's letter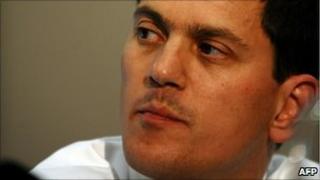 David Miliband has announced that he will not be submitting his name for Labour's shadow cabinet, and therefore will be walking away from front-line politics.
The following is an extract from the letter he wrote to the chairman of his South Shields constituency, Alan Donnelly, to confirm his decision:
"On the day that nominations closed for the shadow cabinet, I think it right to explain to you and party members why I think I can best support him [Ed] from the back benches.
"The party needs a fresh start from its new leader, and I think that is more likely to be achieved if I make a fresh start.
"This has not been an easy decision, but having thought it through, and discussed it with family and friends, I am absolutely confident it is the right decision for Ed, for the party, and for me and the family."
"This is now Ed's party to lead and he needs to be able to do so as free as possible from distraction.
"Any new leader needs time and space to set his or her own direction, priorities and policies.
"I believe this will be harder if there is constant comparison with my comments and position as a member of the shadow cabinet.
"This is because of the simple fact that Ed is my brother, who has just defeated me for the leadership.
"I genuinely fear perpetual, distracting and destructive attempts to find division where there is none, and splits where they don't exist, all to the detriment of the party's cause."