Jack Straw urges Labour to learn from past defeats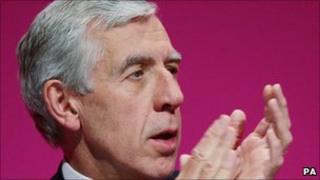 Labour needs to learn from the past to "maintain the confidence" of the vast majority of the British people, shadow justice secretary Jack Straw has said.
In his last speech to a Labour conference as a frontbencher, he said the party must appeal to all of society to be "relevant and electable".
Addressing the concerns of Middle England as well as those on low incomes was "not selling out", he argued.
He is set to end his 30-year career as either a minister or shadow minister.
Mr Straw, who served as foreign secretary, home secretary, justice secretary and leader of the House of Commons under Tony Blair and Gordon Brown, is not standing in the shadow cabinet elections taking place next week.
He told Labour delegates that the party had the strength and energy to get back into power at the next opportunity.
'Fundamental truth'
Ahead of new leader Ed Miliband's speech outlining his plans for the party, Mr Straw said: "We mould our own future. If we are to stay relevant and electable in 2015 we have to learn the lessons of our past.
"It took years of work by Neil Kinnock, John Smith, Tony Blair and Gordon Brown, to undo the damage of the 1980s and reconnect us with all the people for whom this party works, recognising a fundamental truth: that we can only help the poorest and most insecure if we are in government.
"And we can only achieve government by building our support not only amongst the weakest in society but crucially among, as Ed has said, the squeezed middle and amongst those who feel more secure about their incomes and their place."
He added: "This is not about selling out, or any of that nonsense. It's about listening, listening carefully - and putting our timeless values into ways which protect and benefit people as their lives - and their circumstances - change."
He criticised the coalition government, saying "Labour's great legacy on equal rights and public safety is at risk".
"The Liberal Democrats have conspired to put the Human Rights Act under review. The Conservatives, meanwhile, are going to cut the use of DNA technology and CCTV, and restrict the ability of the police and local communities to fight the scourge of anti-social behaviour.
"And who will benefit from this madness? There'll be greater freedom for the criminal, less liberty for the law abiding. It's crazy."
He said the coalition agreement brought out the worst of both parties - "You've got Conservative ministers implementing the most dangerous of the Liberals' policies on crime, while Liberal ministers are complicit in rushing to implement savage Conservative cuts."
Mr Straw also argued for equality, saying that "the countries which are healthiest, happiest and most secure are also those which offer the most equal societies".
As well as "recognising and celebrating that every individual is different, and entitled to an equality of rights, of dignity, of the opportunity to realise their dreams to the greatest extent... equality too is about opposing private extravagance and public squalor".