Ed Miliband challenged by rail union leader Bob Crow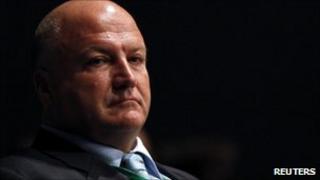 The new Labour leader, Ed Miliband, is facing a challenge from union leader Bob Crow.
Mr Crow, general secretary of the RMT union, claims Mr Miliband might break his pledge to attend a rally against public spending cuts.
"It will be a clear signal he's already abandoning working people," he said.
Mr Miliband beat his elder brother David to the leadership thanks to votes from trade union members and affiliated societies.
The TUC is planning to hold the rally on 19 October and Mr Crow says there is speculation that Ed Miliband will fail to appear.
Mr Crow said a Labour leader who failed to stand shoulder-to-shoulder with the party's core supporters would "get slaughtered at the polls".
He also told the BBC that unions should get support from the new leader.
"If the Trade Unions at the end of the day fund the political party, you fund on the basis that you want to put your political views up," he said.
"... we're not seeing proper representation for working men and women taking place. We keep on getting told there's no other opportunity except for big business, there's no other way out of this except for cuts, there's no other way than privatisation.
"We think there is a different way out of it, that the deficit can be paid back, but we can do it in a different kind of way and not make savage blows."
Ed Miliband has dismissed suggestions that the party will lurch to the left under his control. Since being elected on Saturday, he has repeatedly asserted that he "his own man" and would not be unduly influenced by the unions that helped him get the job.
He is set to make his first Labour Party conference speech as leader later on Tuesday.
He is expected to distance himself from his predecessors by acknowledging voter "anger" at the failings of the party in government - particularly its claim to have ended "boom and bust".
Speaking at the conference in Manchester on Monday, David Miliband called for the party to unite behind his brother who he described as a "great leader".
The shadow foreign secretary, who had long been the favourite for the top job, has yet to say whether he will serve in his brother's shadow cabinet.
A spokesman for David Miliband, who has until 1700 BST on Wednesday to put forward his nomination for a frontbench role, said: "He will not be making a statement on what he is deciding to do until Wednesday."
Although David won a higher percentage of votes from Labour MPs, MEPs and party members, Ed Miliband's success with trade union members and affiliated societies pushed him into first place in the leadership contest.