Four men to fight it out for UKIP leadership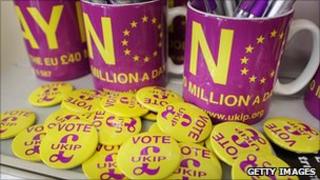 Four men, including ex-leader Nigel Farage, have put their names forward to become the next leader of the UK Independence Party.
Candidates had until 1700 BST to get the support of 51 party members needed to take part in the contest.
MEPs Mr Farage and David Campbell-Bannerman, economist Tim Congdon and former boxer Winston McKenzie got enough backing to stand.
The election result, the second in a year, will be announced in November.
Lord Pearson of Rannoch stood down earlier this month after only nine months in the role, saying he was not cut out for the job and a younger man was needed to take the party forward.
Favourite
Mr Farage, who led the party between 2006 and 2009, is regarded as the favourite to take the job for a second time.
The leader of the party in the European Parliament, Mr Farage was injured in a light aircraft crash on 6 May - the day of the general election.
After the accident Mr Farage - who failed in his attempt to get elected to Westminster in the seat of the Commons Speaker John Bercow - said he planned to spend more time with his family.
But he announced his decision to stand for the leadership at the party's conference earlier this month, saying he believed he was best placed to campaign on the key issue of Europe and help win seats at council level.
Mr Campbell-Bannerman, who wrote the party's 2010 election manifesto, came third behind Mr Farage in 2006. He has argued that the party's organisation needs to be overhauled, with a focus on a wider range of policies.
Professor Tim Congdon, the founder of economic analysts Lombard Street Research and a losing UKIP candidate in May's general election and Mr McKenzie, an entrepreneur who stood in the 2009 European elections, complete the field.
Two men who were once considered possible contenders have thrown their weight behind candidates.
Gerard Batten, who came second in the 2009 contest with 25% of the vote, is backing Prof Congdon while Viscount Monckton, a former Conservative who was head of the No 10 Policy Unit during the 1980s, is supporting Mr Farage.
Ballot papers will be sent out to the party's 18,000 members next week - with the outcome to be announced on 5 November.
The UK Independence Party, which has long campaigned for the UK to pull out of the European Union, failed to make its hoped-for breakthrough in May's election.
However, its share of the vote did increase by nearly 1% as it polled more than 919,000 votes.
Former MEP Jeffrey Titford was named acting leader earlier this month.