Will Miliband be hampered by union-backed victory?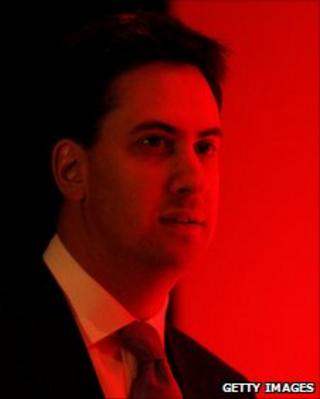 Some politicians embrace the nicknames promoted by their enemies.
A Soviet Army newspaper first dubbed Margaret Thatcher the Iron Lady, and she revelled in the title.
The "Red Ed" tag is proving much less welcome for the new Labour leader. The Conservatives say he has trade unions to thank for his job, and suggest he is in thrall to them.
The largest - Unite - backed Ed Miliband for the leadership and over 40% of its members who voted gave him their votes. Unite made its policy views plain in a conference motion calling for an "alternative economic and industrial strategy".
It said rapid reductions in the deficit were not essential, and the idea that public debt was unprecedented or unsustainable was a myth.
Mr Miliband's opponents say his reliance on trade union votes in the leadership contest means he will have to pay more attention to those views than his predecessors.
Whether that charge, and the Red Ed label, stick will depend on the decisions Mr Miliband makes in his new job.
His reaction to the Spending Review on 20 October will be crucial. He has already said he will not oppose every cut proposed by the coalition - and been upbraided for his comments by the veteran left-winger Dennis Skinner. His response, in detail and tone, will be scrutinised for the influence of the unions.
Then he has to set the broad direction of his own economic plans. He has described Labour's pre-election pledge to halve the deficit in four years as the "right starting point". It is not yet clear whether he will head off from that point in a direction that will please the left or the right in his party.
The Conservatives have said they will press him on whether he will support striking trade unions. How to respond to industrial action is always a delicate matter for Labour leaders. Twenty five years after the miners' strike Neil Kinnock said he would bitterly regret until his dying day not publicly calling for a national ballot.
If the cuts lead to widespread strikes, Mr Miliband's reaction may define the way he is seen.
In his first days in charge he has moved quickly to counter the suggestion he might steer his party sharply to the left.
Middle England appeal
His first article as leader appeared in a newspaper of middle England - the Sunday Telegraph - and pledged not to lose touch with the mainstream. In his first full television interview he dismissed the Red Ed tag as "tiresome rubbish".
There are dangers in too strident rebuttal. It may set accusations in people's minds. And for many here in Manchester there is nothing wrong in being influenced by the unions. They argue it was exactly this strain of policy the party lacked since the birth of New Labour.
Whatever choices he makes, Mr Miliband's attitude will differ from Tony Blair's. In his memoir the former prime minister said he was determined to "free" Labour from its financial dependence on the unions, who he said were the only funders who "explicitly and insistently linked money to policy".
Tony Blair failed in that endeavour. The surviving strength and importance of the link between union influence and the policy of Labour's leader will be tested and scrutinised in the months to come.