Labour must have credible deficit plan, says Darling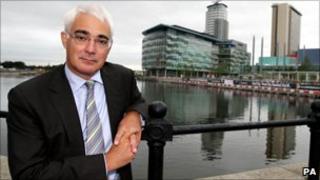 Alistair Darling has said Labour cannot "ignore the deficit" and must have a credible economic plan, in his farewell speech to the party's conference.
He said his "tough" plans to halve the deficit - which some in Labour say go too far - were "measured".
The ex-chancellor, who is stepping down as a front bencher, joked he was not a "conference darling" but it was better to "resist the urge for easy applause".
His colleague Ed Balls has said Mr Darling's plan was a mistake.
There is much speculation about who will replace Mr Darling as shadow chancellor - with Mr Balls thought to be in the running.
'Tension'
New Labour leader Ed Miliband has said Mr Darling's plans were "a starting point" but he believed Labour could do "more on tax".
Mr Darling told Labour delegates conference speeches were hard because of the "tension" at their heart "between what I now you as a party would like to hear - and what I know I have to say".
In a swipe at Lib Dem Business Secretary Vince Cable, who used his conference speech last week to attack excessive bonuses paid to City "spivs and gamblers", he said: "As Vince Cable will find out, in the long-run it is better to resist the urge to go for easy applause."
He defended Labour's economic record, saying the coalition government were trying to "con" people into thinking the deficit was a result of reckless spending, rather than the banking crisis.
And he said Labour's judgement had been proved right - as unemployment and repossessions were lower than those in previous recessions.
But he told delegates: "You and I also know that we cannot ignore the deficit. That would be as foolish as standing back and doing nothing when the crisis hit.
"We had in place tough plans to halve borrowing within four years, but don't let anyone tell you there is no difference between us and the coalition government."
'Right wing ideology'
The government has pledged to eliminate the UK's structural deficit in five years. October's spending review is likely to be the toughest in a generation, with most government departments having been told to prepare packages of cuts worth between 25% and 40%.
Mr Darling accused the Conservatives of cutting spending for reasons of "right wing ideology" and their Lib Dem partners, who had opposed early spending cuts before the election, of being "window dressing".
"We have to expose the gamble they are taking, our approach is measured and balanced."
He added: "If we set out a credible plan, with conviction and confidence, we can win back the the trust and support we lost in May."
Mr Darling got a standing ovation from delegates as he finished. But during a question and answer session after the speech he was challenged about his deficit plan - and asked why Labour should not instead "splurge" money on house building to generate growth.
Mr Darling replied that Labour's plan was "distinct and different" from the government's plan but the party had to be "realistic".
"People know there is a deficit, they know it needs to come down and if you deny that, frankly people will not listen to you, they will walk away and it will have disastrous consequences next time you go to the polls."
BBC political correspondent Norman Smith said new Labour leader Ed Miliband was under pressure from the trade unions and others on the left to propose much slower cuts - or none at all for two years.
Neal Lawson, of the centre left pressure group Compass, told the BBC there were real concerns about cuts leading to a "double dip" recession: "All bets are off now, we have a new leader, we have a new generation and these are now changed and very different circumstances."
Mr Miliband has said Mr Darling's plans on cutting the deficit were "a starting point in terms of the timing" but added: "I think we can do some more on tax".
'Reassured'
Mr Darling told the BBC he had spoken to him and was "greatly reassured that he is realistic, he's got a lot of common sense, he is not going to do something that is irresponsible".
After Mr Miliband pipped his brother David to the leadership on Saturday there has been much speculation he will offer him the role of shadow chancellor.
But Mr Balls, and his wife Yvette Cooper - currently the shadow work and pensions secretary - are also expected to be in the running.
Mr Balls, who also ran for the leadership and was Gordon Brown's chief economics adviser for years, has said he thought Mr Darling's plan could not have been delivered through spending cuts.
Nominations have opened for elections to 19 shadow cabinet posts, including shadow chancellor. MPs vote for those colleagues they want to see on the top team - but the individual briefs are handed out by the party leader.
Two other former ministers expected to stand in the elections told the conference Labour should be proud of its record on the economy and industry and that the coalition's decisions threatened thousands of jobs.
Shadow Business Secretary Pat McFadden said the government should reinstate the £80m loan to Sheffield Forgemasters cancelled after the election and take action to spur business lending rather than just "bashing the banks".
And Shadow Chief Secretary to the Treasury Liam Byrne said that although Labour would not oppose every spending cut, it would fight anything that affected the disabled, children and manufacturing.