Lord Prescott fails in Treasurer bid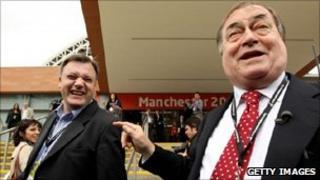 Former deputy PM Lord Prescott has failed in his bid to become Labour Party Treasurer.
The peer conceded defeat in a message on the micro-blogging website Twitter - and congratulated trade union official Diana Holland on her victory.
Lord Prescott had campaigned for the job, vacated by Jack Dromey, after stepping down as an MP at the election.
Labour's annual conference officially opened after the special leadership conference on Saturday.
The peer lost despite a high profile campaign over the summer - he won most votes from party members but was beaten by Ms Holland's strong support from trade unions which left him with 31% of the total, compared with her 69%.
Lord Prescott said on his Twitter page: "Congratulations to Diana Holland on being elected Treasurer. Let's all get behind her and help solve our financial problems."
Ms Holland - assistant general secretary of Unite - said she would "work hard to build a stronger party in all respects, not just financial, and I will make putting us on a sound footing to win the next election my top priority".
General election co-ordinator Douglas Alexander also warned the party not to underestimate the general election defeat. Referring to post-election analysis he said Labour had lost 91 seats and attracted just 29.7% of the vote.
The party was left with just 10 of 197 seats in southern regions outside London, he said.
But he thanked activists for their work during the campaign, saying: "We denied the Conservatives the majority they felt was their birthright."
And Harriet Yeo, a member of the party's National Executive Committee, said the election on Saturday of Ed Miliband as leader had resulted in a surge of new members.
"Since 5pm yesterday we have had 726 new members, that's one every 108 seconds," she said.