UK guidance on torture challenged by watchdog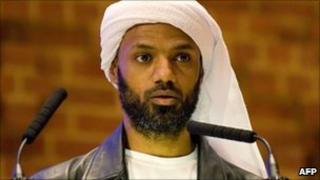 New guidance for UK intelligence staff on how to deal with suspects facing torture overseas may breach human rights law, a watchdog has warned.
As a result officers may wrongly believe they are "protected" from court action, the Equality and Human Rights Commission (EHRC) says.
In a letter to the prime minister, it has threatened to take legal action.
But the Cabinet Office maintained the instructions followed domestic and international legislation.
The guidance was published in July when David Cameron announced in the Commons that an inquiry was to be held into claims British security and intelligence officers were complicit in the ill-treatment of terror suspects by foreign states.
The probe was partly prompted by allegations that London resident Binyam Mohamed was tortured with the knowledge of UK officials while held by the CIA.
He alleges he was tortured in Pakistan, Morocco and Afghanistan between 2002 and 2004, including being beaten and scalded and having his penis slashed with a scalpel.
In Afghanistan, he alleges, he was held in a black hole at the "Prison of Darkness" where he was deprived of sleep, blasted with sound, starved and then beaten and hung up.
In a May 2008 letter to Downing Street, he told how he felt "betrayed" by Britain and said he was contemplating suicide.
A number of other former detainees have since brought legal action against the government.
The EHRC - tasked by Parliament to monitor human rights in the UK - says it welcomes the "positive steps" the government is taking to tackle the issue but has "serious concerns" about the lawfulness of the guidance.
It says failure to provide a "satisfactory response" by 30 September may result in judicial review proceedings being issued.
'Personal criminal liability'
The guidance outlines the steps intelligence officers should take before they interview detainees held by authorities overseas, seek information from them or request an overseas detention.
It says officers must not interview or seek intelligence from detainees when they "know or believe" they will be tortured.
But the EHRC says the guidance does not stop officers from proceeding when there is a "serious risk" of torture. In such cases, officers must obtain assurances from the detaining authorities or consult ministers.
The EHRC said: "The commission asked whether, in its current form, the guidance does enough to protect officers in the field because it may leave them with the erroneous expectation that they will be protected from personal criminal liability in situations where they may, unwittingly, be liable for crimes committed and condoned by others."
The commission's legal director John Wadham said: "The government now has the opportunity to bring its guidance within the law so that the intelligence service itself and its individual officers do not unwittingly leave themselves open to costly and time-consuming court action."
In his letter, Mr Wadham, who also wrote to other government ministers, argues the guidance incorrectly suggests the principles are consistent with domestic and international law obligations, including the UN Convention Against Torture.
'No defence'
Meanwhile, in letters to MI5 head Jonathan Evans and MI6 chief Sir John Sawers, EHRC chairman Trevor Phillips described the advice as "unhelpful" to officers on the ground and suggests it could unwittingly leave them "personally liable for aiding and abetting torture".
"It is no defence or justification for an officer to claim that they were merely following orders," Mr Phillips wrote.
The commission is also calling for the inquiry, chaired by former Appeal Court judge Sir Peter Gibson, to be held in public where possible and its findings to be made public.
But Lord Carlile, speaking on the BBC's Today programme, criticised the commission for proposing to use taxpayers' money on a court case.
He said: "What I'm concerned about is the use of taxpayers' money by the EHRC to sue the government.
"I would have thought that the EHRC could use taxpayers' money more beneficially by putting in a submission to Sir Peter Gibson.
"We are talking here about precious resources, taxpayers' money... spending potentially a vast amount of money on suing the government on this subject is not in my view a good use of the EHRC's money."
A Cabinet Office spokesman said there were no circumstances where action would be authorised "in the knowledge or belief that torture would occur".
He said: "The government stands firmly against torture and cruel, inhuman and degrading treatment or punishment.
"We do not condone it, nor do we ask others to do it on our behalf. We, and in particular our personnel on the ground, work very hard to reduce the risks of detainees being subjected to mistreatment when they are held by other countries.
"We have established a clear framework for them to operate legally, proportionately and with respect for human rights."