Ed Miliband: The doorstep challenge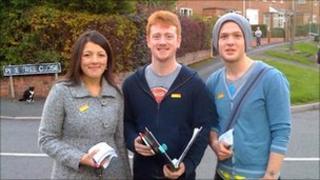 As Labour's new leader Ed Miliband basks in the smiles, handshakes and photographers' flashbulbs in Manchester, he will know where he will soon have to turn his attention.
If he is to be remembered as a prime minister, and not a losing Labour leader, it is people in places like Foxlydiate Crescent in Redditch he needs to woo.
This is the political front line, and on an early autumn evening with a fading sun and a chill in the air, Labour activists have doors to knock on.
Labour lost here at the general election - and lost badly. Former Home Secretary Jacqui Smith was kicked out on 9.2% swing to the Conservatives.
With a hat on his head and leaflets in his hand, Luke Stephens, 22, is bounding up to people's front doors. He paints a picture of a classic 'Middle England' constituency.
"You have a particular mix of people here," he says.
"You have got social housing and private housing. Traditionally our support came from the social housing side, but during our 13 years in power we were supported by a large amount of people here and elsewhere."
Poster boy
For Mr Stephens, that is the challenge for Labour again.
"We have to bring back the traditional Labour supporters who felt that we took them for granted - but also the centre ground, even on the right voters who have trusted us in the past."
Rebecca Blake, 31, chats to a resident on the other side of the road, relieved the leadership election is over. Finally, Labour has a figurehead again, a poster boy she can go out and sell.
"It gives us more confidence. We have sorted out who the leader is. Now we have to think about what the message is," she tells me.
On the doorsteps, with Strictly Come Dancing and the X Factor about to start, some residents are aware that Ed Miliband is the new Labour leader, some aren't. Some care, some don't.
Down the road, in the town centre, people aren't short of views in the Royal Enfield pub. I head in armed with a laminated picture of the new leader of the opposition and people have a stab at saying who he is.
'Sceptical'
Most of those that do recognise him as a Miliband think he is the other one. So his challenge here will be to define himself, before his opponents do it for him.
And Ed Miliband's reliance on votes from trade union members to win the leadership doesn't win him favour from many here.
One drinker, jabbing his finger in emphasis, appears to represent many others when he tells me: "I'm very sceptical about the unions."
Labour's activists are aware too that the 'Red Ed' tag is one they will have to deal with.
But they are confident Ed Miliband can connect with vital swing voters here.
Chris Williams, 22, is the Labour Party's Youth Officer in Redditch.
"I think I will sell him as a younger candidate who can only really grow into the job. I think that is the advantage he had over some of the other candidates. He has got time to develop those skills and hone them in opposition."